What are Reels?
Reels are brief, entertaining videos on Instagram and Facebook. They're a fun and engaging way to view content and can be used effectively for businesses.
Similar to the content of TikTok, Reels are short-form videos that show up on your Instagram feed, stories and Reel explore page. The fun part is that you actually get to see Reels from accounts all over the world and not just from those you follow. They can be addictive too – it's hard to stop watching!
Why Use Reels for your Business?
There are many reasons why you would use Reels for your business. They are a great way to show your brand personality and build brand awareness in a fun, interactive way.
Let's say you are a travel company, posting Reels about travel destinations and experiences in short and easily digestible snippets can help you highlight unique and picturesque travel options to encourage followers to book the destinations you are currently offering. Your Reels can inspire wanderlust and get them to take action and book their dream trip.
Reels are not limited to being shown only to followers, so with quality content, you have an opportunity to expand your reach and build brand awareness. 
Pro Tip – When you create Reels for your business, make sure they are entertaining, digestible and relatable.
How to Increase your Engagement with Reels
There are lots of ways to increase your engagement with Reels, starting with creating quality content for Instagram. Focus on short-form video content that engages your audience, is relevant to your business, and shows viewers that you are an expert in your field. Here are some ideas you can use to increase your engagement with Reels.
Ask Questions in Your Reels
Bring a little bit of fun to your audience. Set up a Q&A (Questions & Answers) at the end of your Reels and ask for viewer comments, i.e. do they have questions, what would they like to know about the topic…
Pro Tip – Start with one video and have the answer in another Reel, that way you keep your audience intrigued.
Include Call to Action in Your Reels
Adding a simple text Call to Action (CTA) at the end of your Reels will prompt the user to take action. Adding a call to action helps you guide users to where you want them to g, and what you want them to do next.
Your Call to Action should line up with your goals. For example, if you want more page views, your CTA should encourage them to learn more about other content you have. Want them to explore your products? Use a CTA that sends them to your website.
Here are some CTA ideas to help you get started:
Double tap if you agree
Save this for later
Ask me anything
Tap for the link
Share if you agree
Ask me in the comments
Follow for more tips
Check out our highlight about [topic]
Head to our stories to find out
Learn more in the blog (link in bio)
Pro Tip – Put the CTA in a box so you make sure your users see your call to action and act on it.
Add Value with Tutorial & DIY Reels
Tutorials and Do It Yourself (DIY) videos are hugely popular. These are a form of video content that shows, step by step, how to do things. Viewers get engrossed in watching DIY and Tutorials – especially when they're short, interesting, and easy to follow….
Do the same with your Reels by creating fun tutorials and letting your audience make the most of your videos. If they are unique and stand out from other Reels, this can really help you to grow your followers.
Pro Tip – People will follow businesses that make their life easier. Be consistent with your branding and target audience when creating DIY Reels.
Make your own Reel Challenge
An easy yet fun way to boost your engagement is to create your own Reel challenge and ask your followers to participate, this gives them a way to participate in trends and can be effective because people like to be a part of something.
The "Let's Dance Challenge" is an example of this (you may have come across on Instagram), it challenges you to copy the set of steps that you see and post a Reel of you doing it on your profile.
To find trending challenges, use a simple tool such as Google Trends to find out what is trending. Type 'Instagram trend' and scroll down for related queries.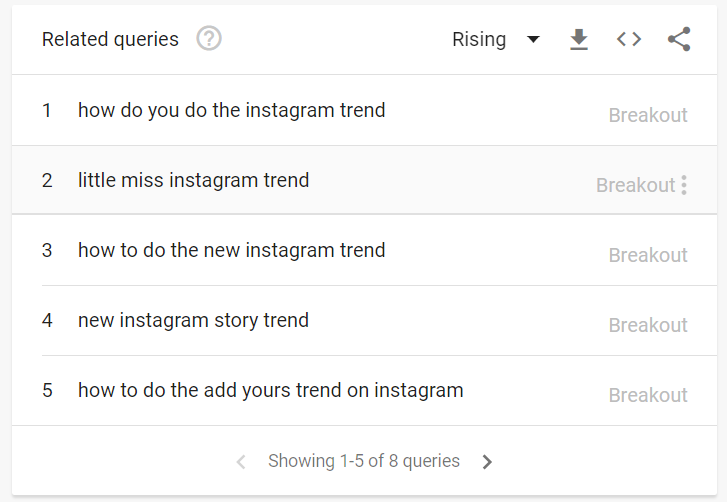 If your Reel is engaging, it will attract the attention of potential new users and increase your reach.
Pro Tip – Adding hashtags helps get the Reel in front of more viewers.
Behind the Scenes Reels
Another one of our favourites is behind the scenes Reels. Have you ever watched those behind-the-scenes videos of your favourite movie because you just wanted to know how your favourite scene was made? You are not alone.
Pro Tip – We highly encourage you to create behind-the-scenes Reels too. Trust us, people LOVE to watch to see how something is made, created, cooked,… you name it!
Educational Reels
Showcase your expertise by creating educational Reels. This is a great way to establish your expertise in your industry and builds your reputation by providing informative and useful content that viewers can benefit from.
Pro Tip – educational reels should focus on one topic for maximum effectiveness.
Testimonial Reels
Yes, share your testimonials in Reels! Use them to tell your audience why people love to work with you or why they should use your products. You're showing off your amazing service and you are connecting with your audience in a more personal way.
Team Reels
A great way to humanize your brand is to show your employees. Create a Reel once a week and feature your employees. Do a mini Q&A, share what they love about working at your company, what they do in their free time and more.
Pro Tip – Be open and honest, and show the human side of your brand.
Before & After Reels
As a women-led business, our team members are absolutely in love with before and after Reels, especially when it comes to cooking, cosmetics and home improvement. We love seeing the results of using a certain product over time.
If you are a construction company, before & after Reels are a must too. Show people the magic you've created.
Pro Tip – Make them eye-catching and showcase the most important features of your work or project.
Reels That Highlight Products or Services
Highlighting your products gives you an opportunity to help potential customers imagine what it would be like using them.
Let's say you're selling shoes. Presenting the important benefits of the shoe and why people should purchase them, like style, comfort, and prestige will make people want to buy them.
Pro Tip – Remember to include a Call To Action so that people can shop or order from you.
Repost Reels
We believe in recycling and there is nothing wrong with reposting good content either! This is a great way to keep your audience engaged and keep the momentum flowing. Repost Reels that will spark interest in your audience.
Pro Tip – When you create Reels, make sure they are entertaining, digestible, relatable and evergreen so that you can repost them with confidence.
How Long Are Reels on Instagram
Reels are getting longer and can be up to 90 seconds long. You have the option to create 15-second, 30-second, 60-second or 90 seconds reels. Shorter Reels seem to perform better, probably because they replay and end up generating more views as a result.
Pro Tip – it's a good idea to test different lengths of reels to see which works best for your audience.
How to Make Reels?
We understand that creating videos can be very intimidating, especially if you don't have any experience in that area. Don't worry, we'll make it as easy as we can for you.
Step 1: Make a plan
Ask yourself:
Always have a plan in place before you start. Think about your goals and plan out what would you like to share, and the actions you'd like people to take when you do.
What topic would be interesting to share?
Does your audience want a tutorial or a DIY Reel?
Should it be educational?
Is something funny, quirky or cheery better for your brand?
These are just a few questions you can ask yourself. Remember to pay attention to your target audience, as they are the ones that you are creating Reels for. Once you have the plan ready in place, it's time to move on to the fun part: creating Reels.
Step 2: Let's start shooting
Instagram always has innovative ways to interact with the app, that's why they have two ways to create Reels. Let's explore together these two approaches:
Reels tab (which you can find on the bottom)
Story Camera
1. Reels Tab
To create Reels from the menu shown in the image down below, simply click on the Reels tab, then click on the little camera in the right top corner.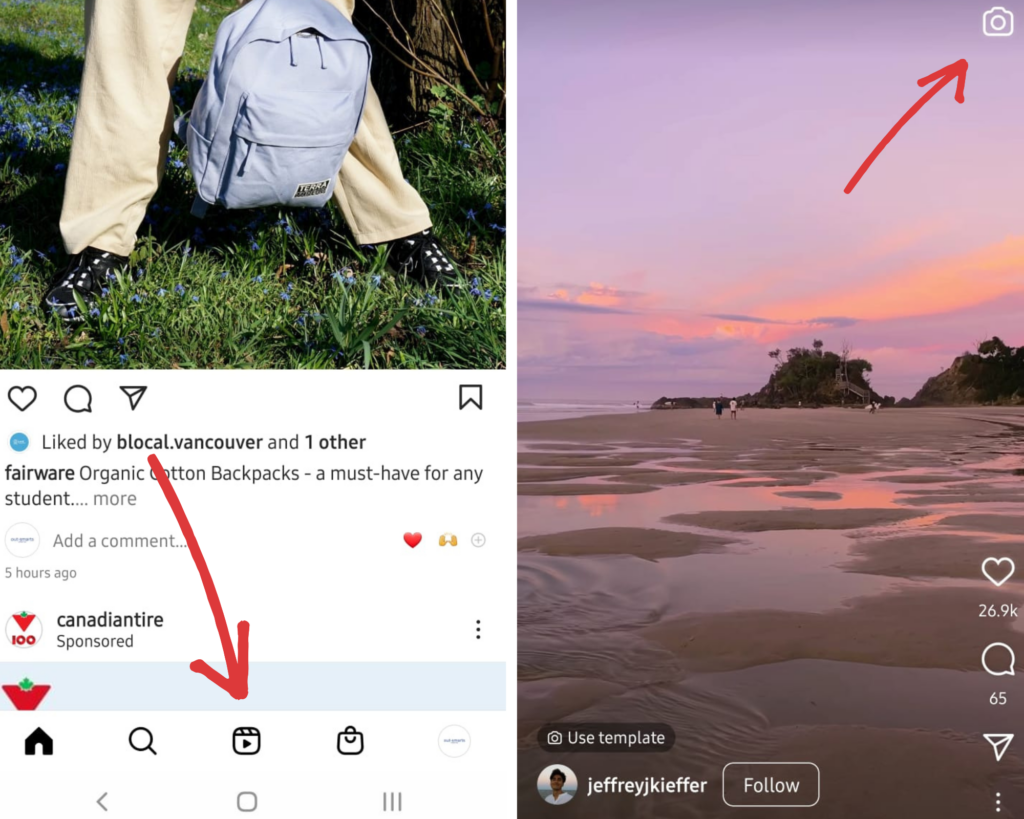 2. Story Camera
Open the Instagram camera and on the bottom of the page, next to story, click on Reels. The image on the left is the normal mode and the one on the right is in Creator mode.
The difference between these modes is that the Creator's one has more features, from adding stickers, and drawings to adding text without the need to share a photo or video.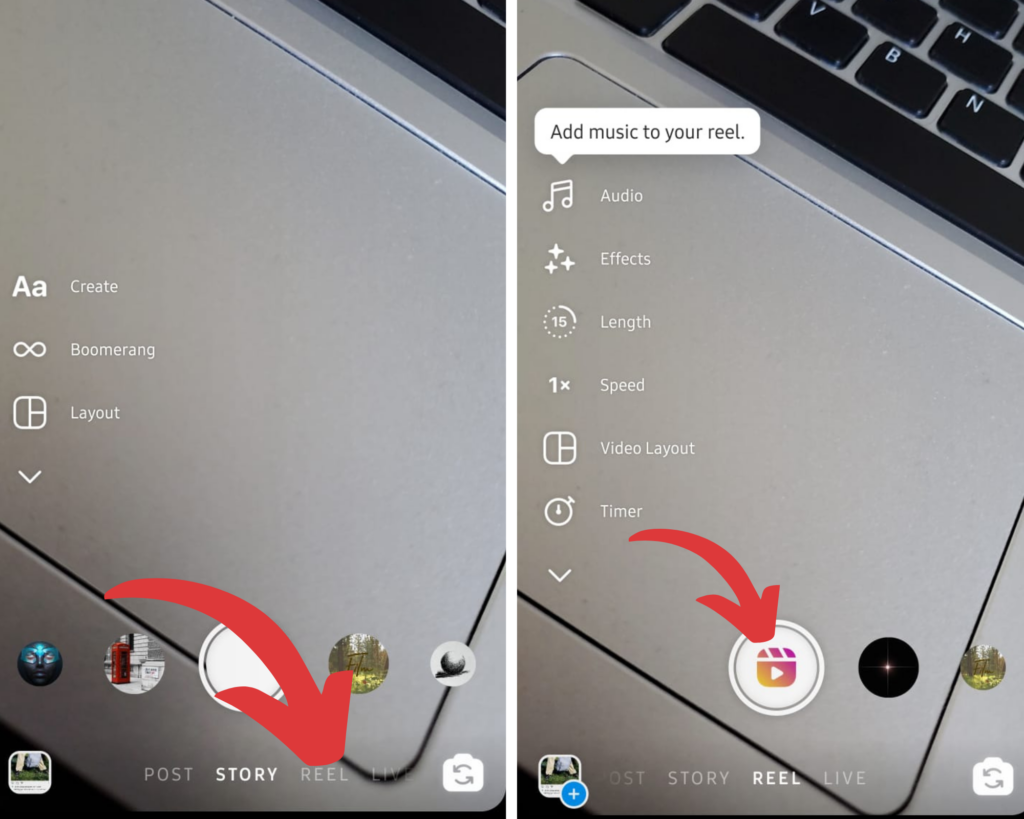 There are multiple ways to record your Reels. You can do it in a series of clips, in one shot or upload your videos if you made them externally.
To record Reels through the app, all you need to do is hold the recording button. You can set up a timer too before the recording starts, so you have a headstart to prepare.
You have options:
to make the recording in a series of clips by tapping the recording button.
to create smooth transitions using the effects in Instagram,
to add new music (from the music library),
To swap products and more.
Pro Tip – You can find transitions in your preview of Reels by clicking on the bottom left corner on "Edit Clips".
3. Editing your Reels
Don't be afraid to explore the edit section. Even with no video experience, Instagram's editor tool is made for everyone to use. Let's explore the features they have: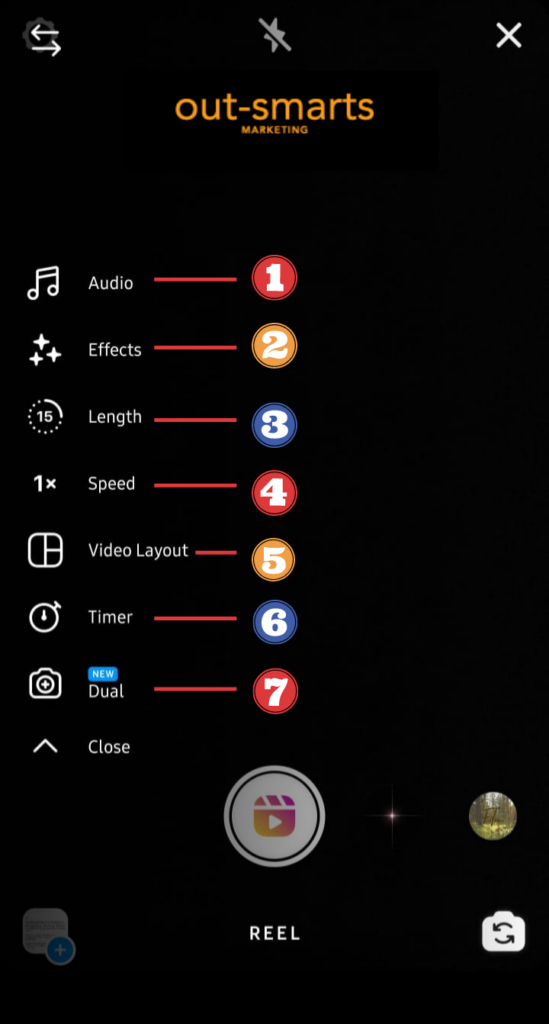 Audio: we love this feature as it allows you to add music to your Reels and you can add your own from your library. Win-Win. (Before proceeding with adding music from your library, make sure that they comply with Instagram guidelines.)
Effects: add filters to your Reels. There are some amazing effects that can really make your Reels stand out. Make sure you explore every one of them. Check out how you can save filters you like to use in the future.
Length: you have the option to make your videos 15, 30, 60 or 90 seconds long. A general rule for the length of your Reels should be somewhere between 7 to 15 seconds.
Speed: this is a super fun feature when used correctly. It helps to slow or speed up your Reels.
Layout: this is a great feature for anyone who wants to add more than one recording into the frame and adjust the layout of the Reels.
Timer: prepare yourself for recording by setting up a timer. You can set up a timer for your next clip too.
Dual (new): do some magic and record Reels using both cameras, front and back.
Have fun with these features and explore what they can do. Add effects, stickers, and explore the options that are part of the platform.
Pro Tip – Instagram's algorithm will push to promote your video if they see value in your freshly created Reels.
Step 3: Adjust your Reels and their Settings
The fun doesn't end here. You can pick a cover for your Reels with the frame in your video or even add a cover from your camera roll. Cool, right?
You can add captions, locations, tag people in your Reels, rename your audio, and use automatically generated captions. You can also decide where to post your Reels (choose if you want your Reels to appear on your Insta feed) and even enable Facebook recommendations.
Pro Tip – Before we continue, we want to mention something very important when it comes to Facebook recommendations. When you do choose the option for your Reels to be posted on Facebook, Instagram won't allow you to boost that Reel afterwards. This means, once you click on Facebook recommendations, there is no way for you to boost your Reels. Adding to this, if you use all your hashtags (up to 30), Instagram won't allow you to boost it either. It will ask you to remove a few hashtags to be able to boost your Reels.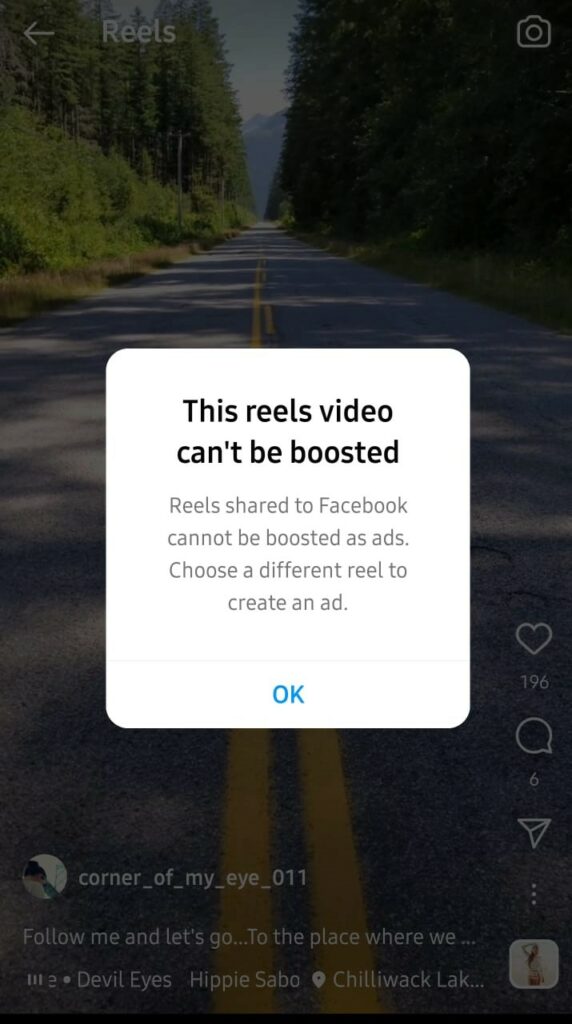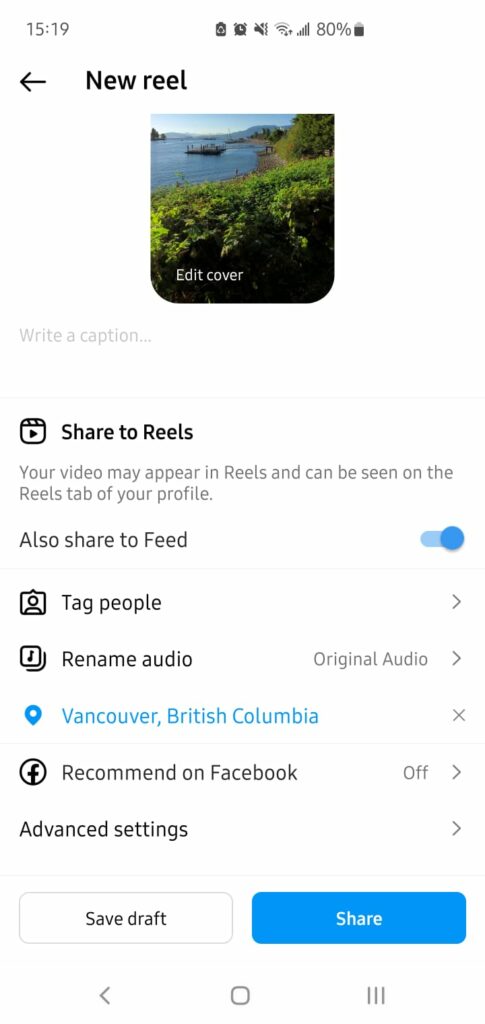 Step 4: It's Posting Time!
Do you see the blue-button above? Once you're ready to unleash your creativity to the world, make sure to click on it.
Congratulations, you just made your first Reel!
Instagram Reels Dimensions
Cover: 1080 pixels x 1920 pixels, Aspect ratio: 9:16
Thumbnail size: 1080 pixels x 1080 pixels, Aspect ratio: 1:1, Recommended upload size: 1080 pixels x 1920 pixels
Caption length: 2,200 characters
Pro Tip – Always upload your best-resolution video.
Making Viral Reels
If you're looking to grow your business, grow your following and boost engagement, you should focus on getting your Reels seen by as many people as possible. There is no trick that will make this happen overnight, but with guidance, you're on a good path.
Here are some tips and tricks that can help you:
Find trending music. We like to spend some time exploring the Reels library tab to find trending music. Once we find something that we like and can use in the future, we save it for later. Note that you can't use music that is copyrighted, if you do your post will be taken down.
Remove the watermark (the watermark is a sticker/logo on your video), if there is one on the video. It's a big no-no for Instagram and they make a point – you're not following their rules, and their rule is to be unique. If you are reposting from a different app, remove those watermarks. Seeing Reels with a TikTok watermark just doesn't look professional.
Another important aspect is uploading high-quality videos. There is nothing worse than a poor-quality video. People will swipe past in seconds. High-quality video really determines if you're Reels will go viral or not.
Pay attention to community guidelines. Don't violate them, otherwise, you might get a temporary or permanent ban. Trust us, you don't want to go down that rabbit hole. If you're unsure, take the time to go over the guidelines.
Make sure to include closed captioning in your Reels. People often like to watch Reels in silence, and if there are no captions, they will swipe away. I can't always play music at work but I can sneak in some time to watch Reels with subtitles.
Captions also increase accessibility by helping people who are hard of hearing to have an opportunity to follow & understand your Reels.
Pro Tip – People can discover your Reels by searching for keywords in the search bar. If you're lucky, your Reels might appear if you have that keyword they're searching for. Remember, to include keywords in your captions.
Add screen text to your Reels and make sure you optimize it in a way that it won't cut off and it's not distracting. Make sure your text fits in the 4:5 viewing aspect ratio, otherwise, it will be cut off.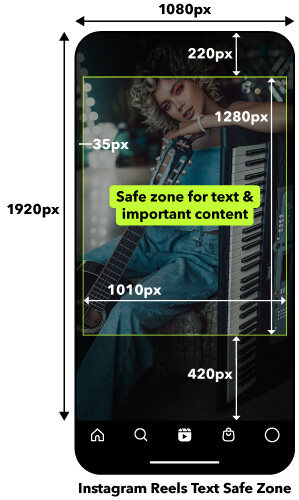 Don't forget to add some fun transitions to your Reels. Learn more about Instagram transitions. Transitions are additional effects that help your Reels stand out. You probably have seen videos of people wearing one red shirt and suddenly, they have a jacket on top of it, without you noticing the swap. That is called transition.
*drum roll* Post at peak times. If you post in a 'dead' time, you can say bye-bye to that Reel. Posting at the right time is one of the most important things that can help your Reels go viral.
Source Influencer Marketing Hub
Best Times to Post Reels:
Monday: 6 AM, 10 AM, 10 PM
Tuesday: 2 AM, 4 AM, 9 AM
Wednesday: 7 AM, 8 AM, 11 PM
Thursday: 9 AM, 12 AM, 7 PM
Friday: 5 AM, 1 PM, 3 PM
Saturday: 11 AM, 7 PM, 8 PM
Sunday: 7 AM, 8 AM, 4 PM
Check out this great tool for Best Times to Post on Instagram Reels Calculator.
Pro Tip – Get inspired by following others. Use the feature: user-generated content. If you hear the same audio on several Reels, you know that it's trending. Play with remixes (made by other Insta influencers or users), and explore your options.
Analytics
As you know, Instagram has a dedicated section for insights. Since rolling out Reels, they've added a tab just for Reel analytics. Now, you are able to track, collect, and analyze your data to understand how well your Reels are performing, plus you get to learn more about your audience and what resonates with them.
Where can I Find insights for Reels?
To check your insights, make sure that your account is a Creator or Business account. Go to settings > account > at the bottom of the page you will see an option to switch to either Creator or Business.
There are two ways to view your insights:
You can go directly to the Reel you want to check the insights for, then tap on the three dots. There, you should see the option to view insights.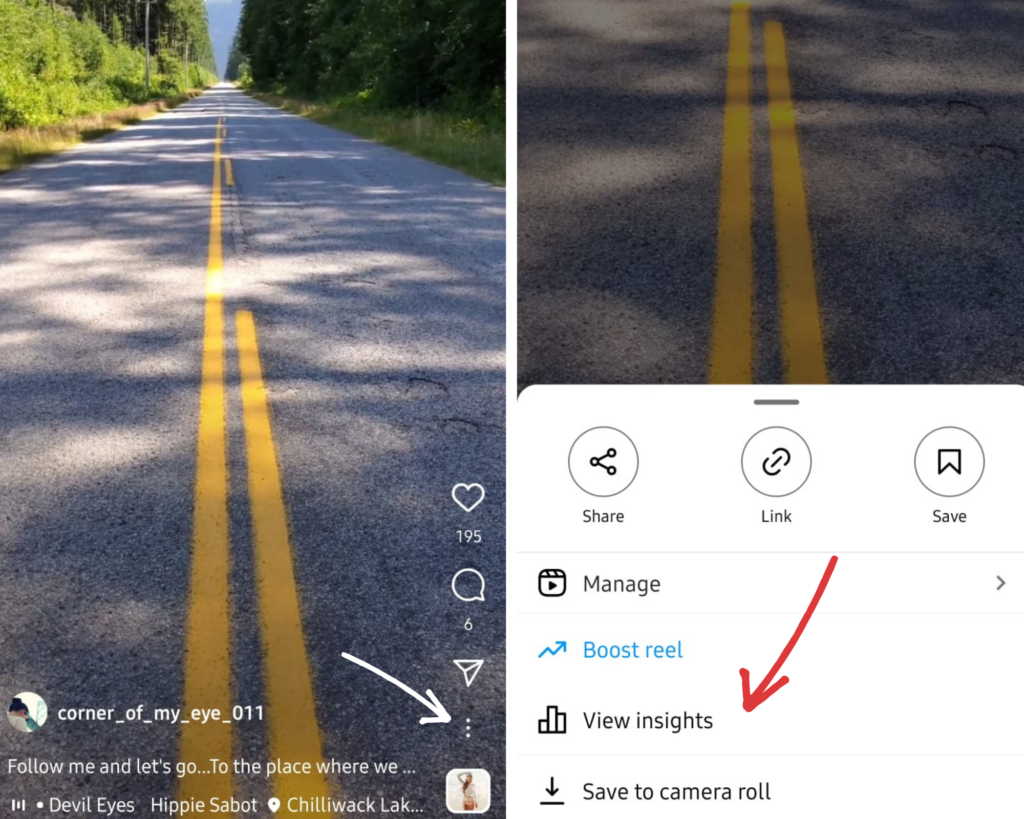 Another way is to go to your account and click on the insights button. You will have the option to see the performance of all of your content.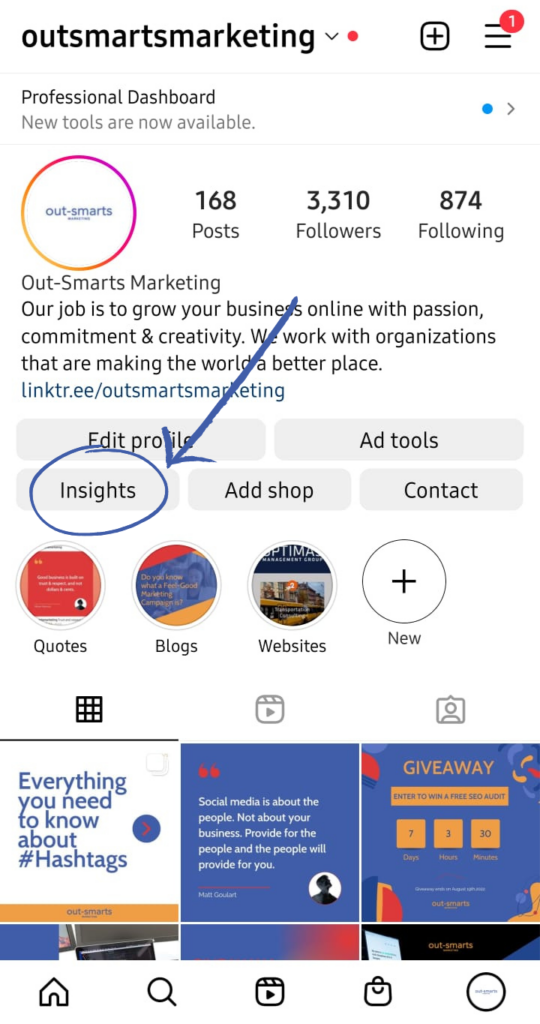 Understanding Analytics
To fully understand analytics, we will elaborate on what each of the metrics means (Plays, Accounts Reached, Likes, Comments, Saves, and Shares).
These definitions were taken from Hootsuite:
Accounts Reach: With this metric, you are able to see how many unique users saw your Reel at least once.
Plays: It shows you the number of times someone played your Reel. The metrics may vary, as some users may watch your Reel more than once.
Engagement Metrics
Likes: shows you how many users liked your Reel
Comments: shows you how many users commented
Saves: shows you how many users bookmarked your Reel
Shares: shows you how many times users shared your content
Making Better Reels with Analytics
The Instagram algorithm is very similar to other apps. If you interact with certain content like travel, for example, Instagram will try to show you more travel Reels. The more relevant your content is to the user that is searching for a certain topic or term, the more your Reels will be shown to that user.
Test Different Styles – When it comes to figuring out your Reels, consider testing different styles. The whole point of testing is to find out the best visual styles, filters, effects and trends for your Reels. Use these magical metrics to learn what resonates best with your audience.
Test The Length of your Reels – Maybe 30-second Reels perform better than the 90-second ones. Sometimes shorter is better, though it might not be the case with your Reel and your audience, so test it out.
Audio – Sound plays a big part in your Reels. Have you ever come across amazing Reels and the audio was just throwing you off? Or someone plays Candy Shop from 50 Cent over a delicate and sensitive Reel. The type of audio that goes with your video really matters.
There are several ways to add audio to your Reel:
Use the original sound from your video
Or add a voiceover
Take advantage of the text-to-speech generator option
There are plenty of saved audio tracks (take a look at the image below)

The image on the left is your music library. You have an option to search for music, explore suggestions for your Reels and an option to save the music for later, for easy access (the image on the left).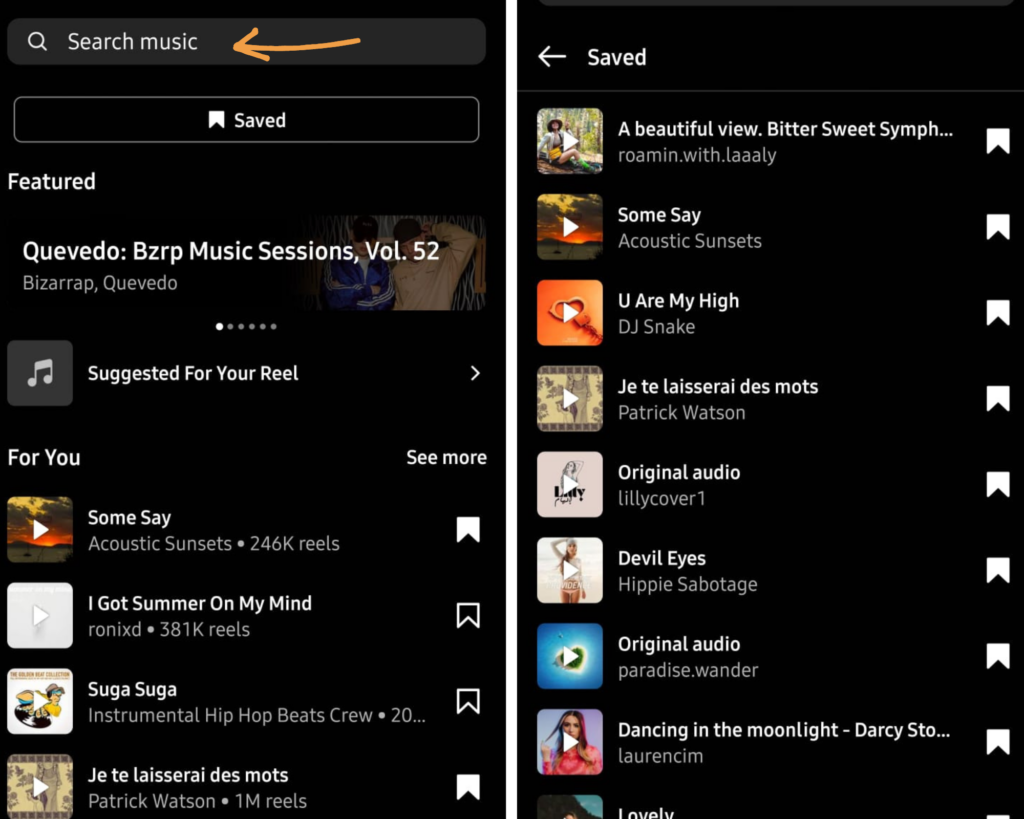 Why are Reels Beneficial for your Business?
In the digital era we live in, it's important to be up to date with the latest trends. This includes keeping up with Reels. Although you may think it's not for you or your business, it is. It's for everyone. With a good strategy and content, you can change the way your business evolves.
We are not saying you have to have Reels. But, why not grow your business organically when you have an opportunity to do so? Increase your visibility, use the tool that everyone has their eyes on, look at the explore tab and imagine your Reels there.

If you need help with growing your business both organically and paid, we are here to help you succeed. Book your FREE discovery call today and let us understand your needs and goals to grow your business.