We were woefully late to Instagram as a company. Our team members had been using it for years and we've been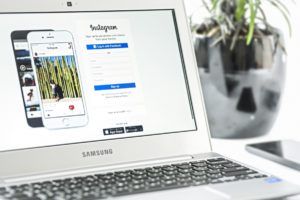 building there for our clients but our corporate Insta feed was sorely neglected. In fact, we just launched it this spring, but in true Out-Smarts fashion, when we decide to do something (however late to the game we are), we do it right. We'd like to share with you some tips on how we went from 34 to 1034 followers in the space of 2 short months.
But first a little about the app, Instagram is a photo and video sharing app owned by Facebook. There are currently 800 million users on Instagram, and 51% of users access the platform at least once per day. Over 80% of accounts on Instagram follow a business, but two-thirds of profile visits to businesses come from people who aren't following that business. The largest segment of Instagram users are aged between 18 – 24 with a pretty even split between men and women. With impressive stats like these, it's no surprise more and more businesses are joining the Instagram game.
Tips to Build your Instagram Business Following
Take time to craft a good bio that conveys what you do, who you do it for. Make it upbeat and interesting. You can also use the bio to link back to things you want to promote through hyperlinks, mentions, and hashtags. With a bio that speaks directly to your target audience, you'll attract more quality followers who are more likely to become your customers.
Post regularly – the best way to determine how often to post is by trial and error and will really depend on your audience. Test and try different frequencies and monitor engagement to help you decide. Once you have found a rhythm that works – stay consistent for the best results.
Like and comment – the more you interact on Instagram, the more people will interact back with you. Be focused as to who you interact with – remember your target audience and hone in on that.
Follow – to build your following you have to follow the right feeds. Get in the habit each day of following Instagram feeds in your target area. Keep an eye on your follower to following ratio. You can also use tools like

Instazood

that help automate this for you but be extra careful to monitor this often to ensure you don't run into any issues that could get you banned.
Share the love – despite all the selfies out there, your Instagram business feed shouldn't just be all about you. Share the love and great stories of your clients and customers and tag them in your posts.
Use hashtags, these are key to getting your content found. You can use up to 30 tags but 11 seems to be the optimal number (again trial and error will help determine this for you). Hashtags are a series of letters, symbols or emojis preceded by the # that makes them hyperlinkable. Choose hashtags that describe your business, the purpose of your account, your target market, and your location. We also recommend choosing hashtags that have between 50,000 to 200,000 tags so you have a better chance of standing out. …. You can use tools like

Hashtagify me

to help identify popular ones to use, then there are also hashtags that encourage reciprocation.
How does your feed look – Instagram pages are quickly becoming the home page for many companies. While a matching feed isn't necessary to grow your following, take the time to curate your page so future followers know exactly what to expect when they follow you. Be consistent and plan out the look of your Instagram feed before you post, using a visual planner like

Later

.
Share with Instagram Stories – Posting to your Instagram Story as a business is a fun and creative way to connect with your audience, grow your engagement, build brand awareness, and drive traffic to your website. Since stories only have a 24-hour lifespan, it's the perfect place to share your journey, community posts, behind-the-scenes shots, and sneak peaks.
Take great photos – Curate your feed to be the best representation of your brand. Put your best foot forward and post relevant, high-quality photos to attract your target audience.
Take advantage of captions – this is the space where you have an opportunity to share more about your brand and your story with your followers. This is also an area many businesses overlook, so take the time to write out an engaging caption and you'll be rewarded with a more engaged audience.
With over 1 billion active monthly users, it's no surprise that getting more Instagram followers is a big priority for most businesses. We hope these tips serve as a helpful start for anyone hoping to grow their Instagram following. Not sure how to implement these strategies for your business? Learn how Out-Smarts can help you achieve success on Instagram.