Social Media Marketing (SMM) Services
Helping you expand your reach, socially
Look at your last five social media posts on your business pages. Were you talking about yourself the whole time or sharing value? Are you posting consistently, or just when you have a few spare moments to post something? Social Media Marketing (SMM) is essential to increase your brand reach and build customer loyalty, but only if you do it authentically.
Knowing what social media channels to use (hint: you shouldn't be using all of them) and knowing what and when to post can be challenging. Social media can be a powerful source for building your brand story and capturing leads.
We will help you determine the social media channels that give you the best ROI and create a content strategy for posting authentic, value-driven content and help build customer loyalty.
Social Media Marketing 101: How to boost your ROI
Running social media accounts for a business is not like posting to your personal profiles. You need to post purposeful content that supports your brand messaging and builds brand awareness and trust for your business. The best business social media accounts are ones where you feel someone from the business is actually engaging with you, rather than an autoresponder or canned response (or no response).
Your first step to getting started with social media marketing for your business is to know your customers (their preferences, buyer patterns, personalities, which social channels they use). This will help you be where they are online and create the content they're craving from your business. But that's only part of the story.
The social media algorithms are complex and they have precise criteria that they look for when deciding which posts to show in feeds. You need to play by their rules if you want to increase your reach.
Some businesses use a combination of organic and paid social media campaigns. No matter how you do it, knowing what the social media algorithms want can help you post the right content and graphics so that the algorithms show it to more people. These algorithms often change so you need a social media team that is up-to-date on all the geeky details, so you don't have to be.
Why all businesses need to be on social media
In business, you already know that you need to hang out where your customers hang out. At least 72% of adults use at least one social media site and spend about 145 mins on these accounts every day (although we think this is low).
Social media is the best way for brands of any size (especially small to medium-sized businesses) to gain exposure in an authentic, humanized way. It's the best way to influence your customers and build loyal fans.
We won't lie to you, it will take work to establish and maintain your social media presence, but the return can be even bigger. Having the right strategic roadmap for your social media accounts (which Out-Smarts can create) is your best chance to use this valuable marketing tool to your business advantage.
Why you need Out-Smarts
SMM pioneers
We were one of Vancouver's first digital marketing agencies to offer social media marketing in 2007, and we've never looked back.
Our social team
Our team dives in to learn as much as possible about your brand and messaging so we can act on your behalf to create valuable content.
Doing social authentically
Social media for business needs a strategy. We'll help you pick the right channels and use them to reach your business goals.
SMM + SEO
Social media should be part of your overall SEO strategy. We can optimise your social media content for greater reach to your ideal customers.
Tried + Tested = True
After a decade in the biz, we've seen the successful strategies and can customize them for your business goals and objectives so you get a positive ROI.
Fanatical customer service
We believe a job worth doing is a job worth doing right. Our team focuses on building honest, strong relationships. It's part of our core company values.
The Social Media Nitty Gritty (aka what we do)
Our tailored social media solutions start from the ground up and include set-up, maintenance, and management for various platforms, including:
Instagram
Facebook
LinkedIn
Pinterest
X (formerly)Twitter
Google Business Directory
…and more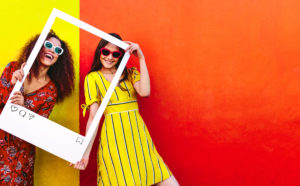 If your niche has a social media platform, we'll get you on there and post the right content.
Our job is to give you the right strategy and help you keep your social media channels current and attractive so they convert followers into customers.
We also offer more robust strategy and content, including:
SMM Content Creation
Our social media experts will source and create social content that is on-brand and aimed at engaging your audience and post at optimal times to reach your target customer.
Includes: a monthly report with progress and suggestions
SMM Advertising and Re-marketing
Some social campaigns may benefit from a paid advertising and re-marketing strategy to reach the most engaged followers who already know you but need more information before buying. This type of hyper-targeted marketing is great for special promotions, short-term campaigns, and brand building.
Don't let the competition out-smart your social presence!
Don't give your competition the chance to show up before you often on social media feeds. Book a free discovery call with us now to get started and discover your unique strategy to be seen by your fans on social media and build your brand.
What Our Clients Say
"Working with the Out-Smarts team helped us launch our new clinic with clear goals and directives. They spearheaded the digital strategy so we could focus on patient care inside of the clinic. Their approach was knowledgeable, tenacious, patient, professional. We highly recommend Out-Smarts to anyone looking to integrate digital marketing into their business."
---
Samson Consulting worked with Out-Smarts through my client, Great Bear Rainforest Essential Oils (Coastal First Nations - Great Bear Initiative). Mhairi and her team were able to provide all the elements needed at both the strategy and implementation levels. They also recognized needs beyond what was requested, such as including beautiful original photography, that had a deep impact on the success of the campaigns.


I was particularly impressed with their creative approach and ability to maximize impact for my client, while being mindful of budget, including significantly growing the social media audience, creating avenues for meaningful engagement, and increasing brand awareness. Clients are in good hands with Out-Smarts Marketing.

---
"Mhairi and her team at Out-Smarts Marketing have made our work life so much easier by managing our social media feeds, newsletter, Google Ads, and more. We were really impressed that they took the time to understand our company values, and at their ability to produce original, informative and meaningful posts. They are great at transforming our ideas into solid social media marketing. They developed and implemented a tailored strategy that worked best for us and at the same time delivered great customer service. We are now reaching a wider audience with a positive, engaging message. We look forward to continuing working with Mhairi and her team. We would highly recommend Out-Smarts to anyone who needs digital marketing services for their business!"
---