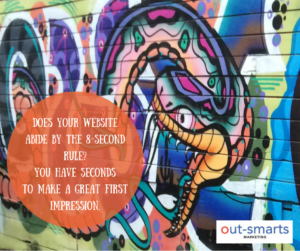 You have seconds to convince a first-time visitor to stay on your website. Approximately 50% of them leave within those first 8 precious seconds for a number of reasons, but there are ways you can reduce your website bounce rate.
Your website should make the best first impression so that it convinces visitors to stay.  Keep them on your site and lower your website bounce rate with these 4 tips:
1) Speed Up Website Load Time
There are a number of sites that can measure your website's load time. The quicker your website loads, the less likely a first-time visitor will leave. A couple of sites we recommend are Pingdom and Google's PageSpeed Insights.
Pingdom has a free tool to test your website's loading time.  It's simple and easy. Enter your website's address, select a location and Pingdom analyzes it, gives you a performance grade and identifies in a detailed report what may be slowing down your website's load time.
Google's PageSpeed Insights is also free and just as easy. You type in your website URL, click on the analyze button and wait for the results. You will receive two performance reports;  one for desktop and another for mobile both of which have their own a PageSpeed Score that ranges from 0 to 100 points.  Side note: your website should be optimized for mobile devices – which includes both smartphones and tablets – otherwise your website may not show up on Google Search results on mobile.  The reports give advice on what to fix and how to fix it to make your website better and lower your website bounce rate.
2) Define The Purpose of Your Site
Your website should solidify your online identity and your services and/or products should be clear and obvious. The top left hand corner is the most important part of your site – use it to showcase what you do and define your purpose so that visitors get it instantaneously. Showcase what you do and who you do it for.
3) Simple Website Navigation & Layout
Keep your website simple, make it intuitive to use and design it to be desktop and mobile responsive. These elements will keep first-time visitors on your site longer and make them less likely to bounce (leave after visiting only one page). Have all information about your products and/or services on your website.
Another way to reduce your website bounce rate is if you keep getting asked the same questions, then it is a good idea to make that information available on your website too because people would rather move onto another competitor's website to find the answer than to call up your business.
You should have two sitemaps – one for Google (XML) and the other for people. It is paramount that people can find the content they are looking for on your site easily, so don't overwhelm them with links. Too many links and menu items can cause confusion and result in people leaving your site if they have to keep clicking around to find what they were looking for. Pages should be linked from the menu or from inner pages (to help Google crawl them all).
Include easy to find contact information on every page of your website. Having an address, phone number and email in plain sight makes visitors feel that they are dealing with an actual business.  
4) Give Website Visitors Reason to Come Back
Provide dynamic content such as blog posts, images, videos and etc. Use a blog to set yourself apart by showcasing you're an expertise in your industry and how you will deliver on their expectations. If you can offer valuable information like giving free advice this results in trust and  goodwill. It will bring visitors back to your website and increase the likelihood that they will retain your services.  
Videos are great for boosting conversions and return visits too. Use videos to highlight a new product or explain your business. Make sure though to keep videos short – less than 2 minutes – so visitors stay to watch.
Differentiate your website and business by having a distinctive logo and by sharing consumer reviews so that visitors don't go searching for reviews about your company on other sites that you don't have control over.  
Lastly, update your site often. An active and fresh website will not only make first-time visitors stay, but come back again and again.
Conclusion
Take a moment to look at your website from the perspective of a first-time visitor or better yet, have a friend do it. Identify what your website may be lacking from what we've outlined above. Implement some of these tips to reduce website bounce rate and see if it convinces more visitors to stay on your website longer than 8 seconds.  Some of these changes will be easy to put into action and others you may feel are too technical. If that's the case, contact your web developer or give us a shout – we'd be happy to help.
About the writer: Gloria Botelho is a practicum student from the Digital & Mobile Marketing program at Simon Fraser University. Gloria lives in East Van and is obsessed with cats, flowers, street art and all things Portuguese.