About ARSC – Acne Action
Acne Action is a website created by The Acne and Rosacea Society of Canada (ARSC), a national, not-for-profit organization led by Canadian dermatologists. They share reputable information to help people dealing with acne. This site delivers articles to help users understand their skin conditions and provides support by sharing personal stories of people's experiences with acne.
Issues with the old Acne Action website, which was built over a decade ago, were causing a barrier to users accessing the site's valuable information. To resolve these issues, ARSC reached out to the Out-Smarts team to tackle their website redesign.
Website redesign discovery
To fully gather an understanding of the client's issues and goals, we start every project with an in depth discovery session to outline the project scope of work. From our discovery sessions with the Acne Action team, we garnered that they wanted their site to be more attractive to a younger audience, streamlined, and usable on mobile devices. We then pinpointed the main issues that we needed to tackle in this project: modern design, navigation and optimization.
The old site was dated, disorganized and oversaturated with hundreds of pages, making it difficult for users to find the information they were looking for. We tackled this by running a full SEO content audit to find out which pages had traffic and backlinks and which didn't. This provided insight into what to prune down to improve navigation.
Acne Action's target audience is teens and young adults searching for reliable information on how to improve and understand their acne. Therefore, creating a site that is attractive and optimized for mobile use was an incredibly important aspect of this project.
Improving website navigation
To address the issue of the old site being difficult to navigate, we implemented a refined and improved menu which allows users to find what they are looking for within three easy clicks. Improved navigation not only positively affect user experience, but also reduces bounce rates, while increasing SEO performance, conversion rates, user engagement and accessibility.
Optimizing the website for mobile
With a constantly increasing use of mobile devices, especially for Acne Action's target audience, mobile optimization was a large focus of this project. We ensured the new site was optimized for all screen sizes so users on any device could access the information provided. Typically, we prioritize mobile-first design with all of our sites because more people use their phones to access websites than desktops. To further increase the site's accessibility for people using screen readers, we created optimized image alt tags for all images on the site.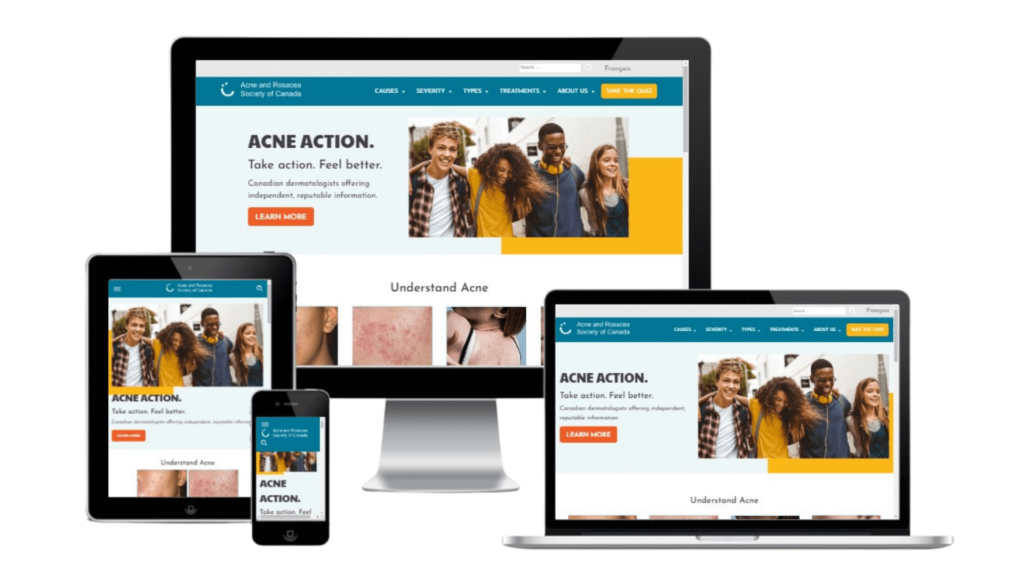 SEO
To ensure Acne Action's new site was able to rank strongly in the search results, we performed foundational SEO on the site. This included in depth keyword research for each page on the site and crafting optimized META titles and description tags, using the identified keywords. Additionally we fixed broken links and set up redirects from some of pages that we removed.
Results
Since launching in July 2023, the new acne action site has seen an increase in traffic from all sources. Most notably, organic sessions have gone up by 60%, traffic from new visitors has increased by 16% since launch. In addition to traffic, both conversions and engagement have surged, influencing the time visitors spend on the site (which has increased by 15%).
What Our Client Says
"As executive director of the Acne and Rosacea Society of Canada, I have worked with Out-Smarts Marketing, principal, Mhairi Petrovic, and her team since the society was founded in 2015. Over the years, projects centred around digital marketing involving our 2 websites, Google Ads, and Google Analytics. In January of this year, we began the most significant project in 8 years with the building of a new acne website. We chose Out-Smarts not only because of the wealth of knowledge, technical ability and experience they have in building websites and more importantly the trust we have in their team.
Their support from the beginning to the end of the project was fantastic. Throughout the building of a complicated site (English, French etc) we found them to be creative, solution-orientated, and friendly. Never a problem that they could not work around. Our team at ARSC is delighted with the results and would highly recommend working with Out-Smarts."
Sue Sherlock Executive Director, Acne and Rosacea Society of Canada
Is your website not performing how you want it to? Are you not showing up to your intended audience? Is your website dated? We're here to help. Book your free discovery call with us today to see how our website services can help you stand out and reach your goals.