Case studies are awesome. They're an often overlooked tactic in the marketing world and an important tool that we rely on here at Out-Smarts. Aside from generating leads and influencing sales, case studies build trust, strengthen credibility, drive traffic to our site and show potential clients the value we can add. We use case studies all the time in both our marketing process and our sales cycles.
Blog posts are great. You know that, you're reading this! However, case studies can be a more versatile and personal way to tell the story of the impact your business has and the problems you solve for clients.
This guide to everything you need to know about using case studies for your business will kick-start your creativity and give you a step-by-step outline to help you write and market your successes.
What is a client case study?
Case studies are an underutilized, yet high-performing content marketing tool to showcase recent successful projects. We prefer to call them success stories because they describe how you've successfully added value for clients. Used to give an in-depth description of the services you offer and to demonstrate the value of your services in a personal way, case studies, although typically written content, can also be shared in the form of video, podcast, and too.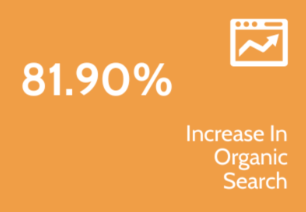 Often, a case study will draw prospective customers in by highlighting the quantifiable outcomes of your work. For instance, one of our recent SEO success stories focuses on the result of an 81.9% increase in organic search traffic. Case studies typically also include a customer review, providing prospects with insight into the ways your services could benefit them.
Why would you use a client case study for your business?
No matter the size of your business, or the product or service you offer, if you're not using case studies in your marketing tactics, you're overlooking an incredibly useful tool.
Why you should be using case studies:
They work – In a 2020 survey, case studies were found to contribute to

13% of nurtured leads
23% of converted leads
They grow brand awareness – Case studies are a great tool to increase organic traffic to your website and help you stand out from competitors.
They can be more useful than blog posts – In the survey mentioned above, case studies ranked higher than blog posts and social media for converting leads into customers.
They support credibility – Potential clients are less likely to work with a business that does not show examples of their work. By showing a personal story about your approach, and including testimonials from clients, you build trust and prove the value of your business.
They can help you get the clients you want – Do you prefer working with clients in a certain niche? Case studies can be a great way to show your capabilities in certain spheres and bring in similar clients.
They can be used in your sales cycle – Past success stories are great to have on hand to include in proposals. Like a portfolio, they provide insight into your abilities and the work you've done for others.
Finding inspiration for your success stories
If you're new to case studies, familiarizing yourself with some examples is a great place to start. Gather some inspiration from stories shared by other businesses. Pick out aspects of stories that inspire or interest you, and gain an understanding of the writing styles used. Hub Spot's 28 Case Study Examples Every Marketer Should See is a great resource to get you started.
How to write a client case study
Before you start writing your case study, gather some information. We've made a checklist to make it simple.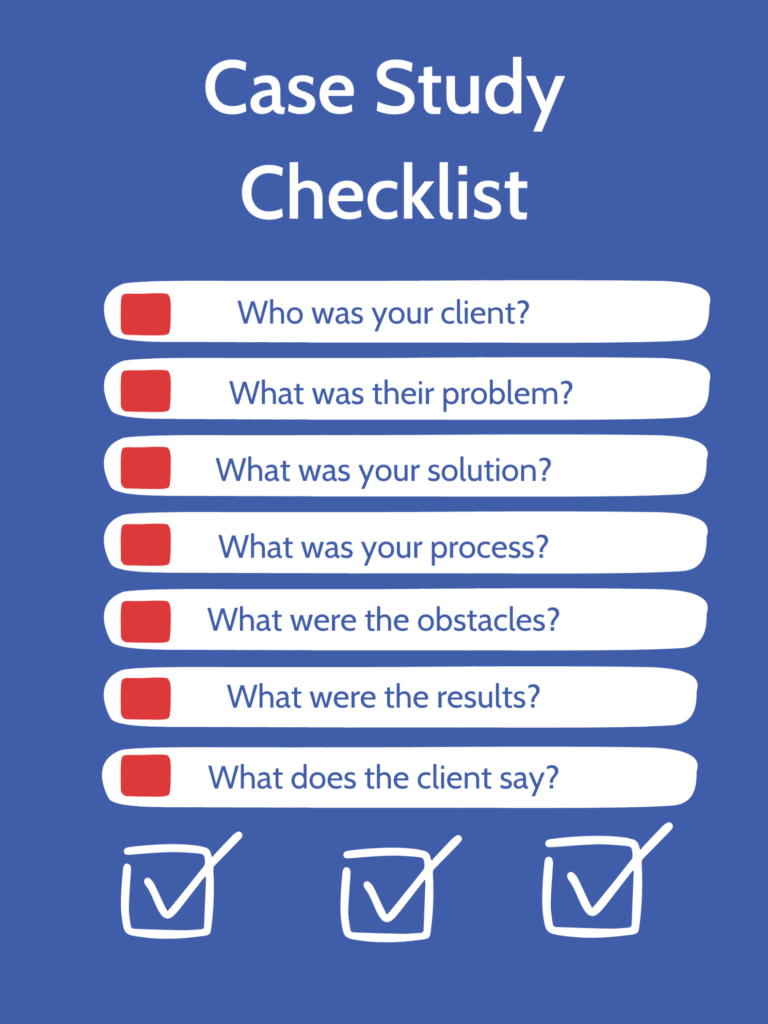 It may seem daunting to write your first case study. Don't worry, we're here to guide you through it. The first step to writing an effective case study is to create the framework of your content. Organize it like a story with a beginning, middle and end.
Create a case study outline
Background information – Provide a brief introduction to who your client is and what they do. This is also a good place to explain why they chose to work with you.
Share the problem – Identify the problem your client was dealing with. Share what their goals and expectations were for the project.
Discuss the solution – Explain your solution to their problem, including specific approaches and techniques.
Explain your process – Tell a story of how you implemented your solution and what tactics were used.

Be personal – Don't be afraid to point out any challenges you encountered. Customers know that obstacles arise, be transparent and explain how you overcame them.

Reveal the results – Now is the time to present your success. Reveal the outcomes of your project and talk about how it solved your client's initial problem.

Talk numbers – This is also a great place to include any metrics and data of quantified results, to show just how effective your project was.

Client testimonials – Positive reviews from your clients are incredibly helpful in building the credibility of your case study. Reach out to them and ask them for a brief testimonial about the project.

Get permission – Make sure to ask your client to review your case study before you post it and to ask them if they have any changes or additions they'd like to add.
Other things to include in your success stories
Nobody is going to be drawn in by the words on your page alone. Make your case study eye-catching and engaging by including supplemental aspects such as:
Visuals – images, graphs and infographics help break up groups of text, making your page more visually appealing.

We like to make a highlighted graphic like this, to summarize our projects in a digestible way.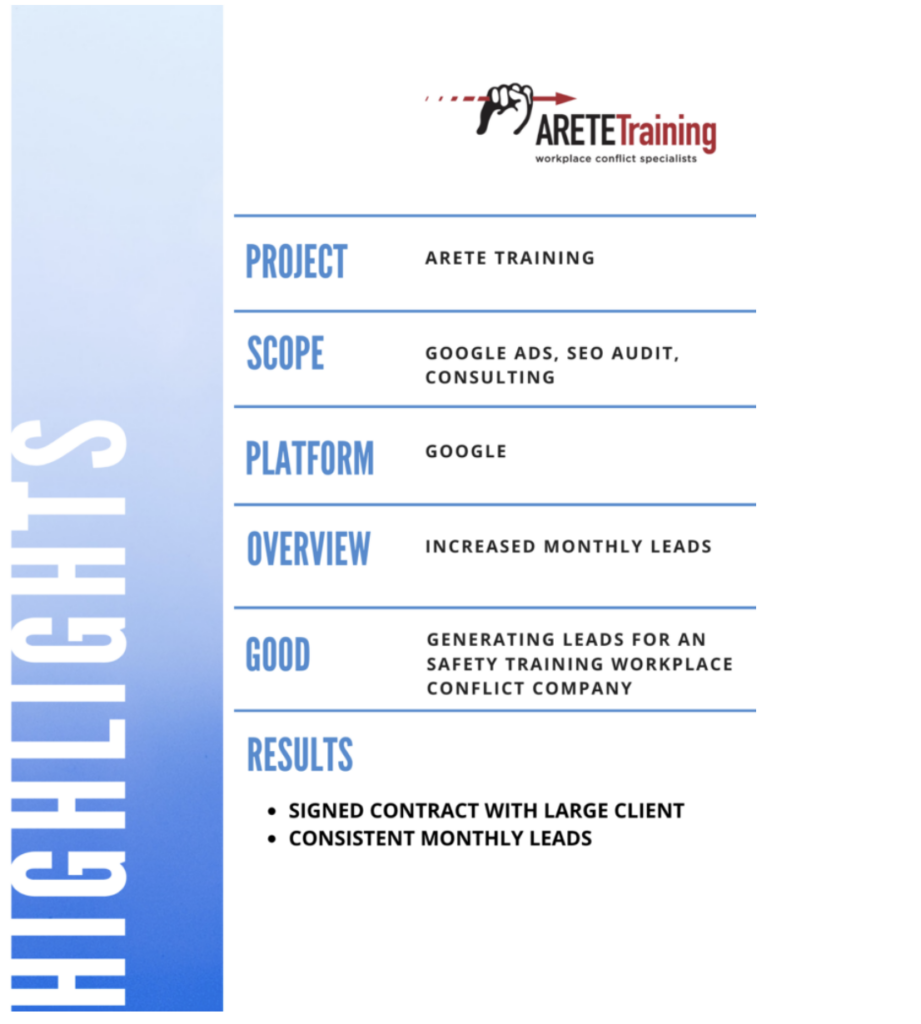 Headers – Guide your reader through your story and add headers, introducing new sections so that they can scan and read the pertinent sections easily..
Calls to action – Increase your case study's power to convert readers into leads by including a brief CTA message at the end. Make sure your intended action is clear and straightforward for your audience.

Some inspiration for CTA messages include:

Schedule a consultation
Share this case study on social media
Request a quote or trial
Contact us for more information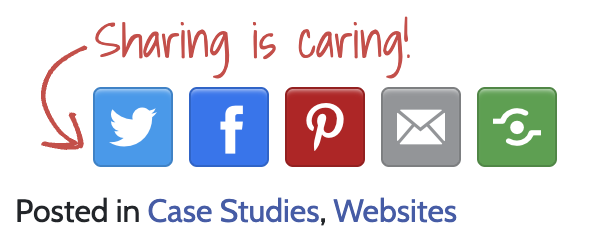 How long should a case study be?
Every project is different and varies in complexity, so the length of your case study will depend on the context of the project. A good rule of thumb is to have around 500 to 1,500 words, ensuring that you provide your readers with enough information to understand the full scope of your project in an engaging way. Although each little aspect of your project is important to your outcome, don't forget to edit out unnecessary details. Make sure to get to the point and don't drag on. An excessively long story will lose your reader's attention.
Keep in mind that your readers and potential clients may not be familiar with your services or the tools you use. Make your content digestible to a wide audience and avoid using technical jargon.
How to Market your case studies

Post them to your website
Once you've written your case study, it's time to show off your success and start attracting new leads. The first thing to do is get your story out there and post it on your website. To make your case studies easy to find, we suggest creating a specific page or section that is featured on your website. Take a look at our success stories page for some inspiration. Be sure to include META titles and descriptions that include top-performing keywords to ensure visibility (SEO) and attract new visitors, and use these keywords effectively in your headers and copy too.
Share with your followers
Don't rely on only posting your success stories on your website. Take advantage of all your channels and increase your reach by promoting your success stories on your social media streams. Include a call to action, suggesting readers view the whole case on your site or share your case study on their platform.
Email marketing campaigns are another great way to remind your network of your expertise by showcasing your recent successes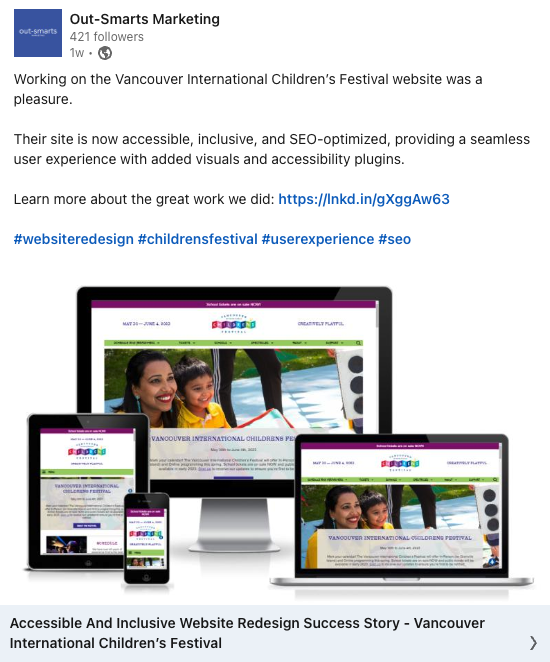 Use them in your sales cycle
Highlight your case studies in your proposals to potential clients to show you are experienced in facing similar challenges. This gives you an advantage over your competitors by building trust and demonstrating credibility, proving the value of case studies in your sales cycle.
Are you ready to get started with your own case studies?
The power of case studies goes beyond their ability to generate and convert leads, increase sales and improve your marketing tactics. They strengthen your customer and prospect relationships by building trust and redibility, and they build brand trust too. Would you pay for a service if you didn't feel confident it would succeed? Probably not, and the same goes for your potential clients. Trust is arguably the most important aspect of business. Clients reach out to you in a time of need and rely on you to help them succeed. Potential clients need to see that your business is credible before they put their trust in your hands and decide to choose your organization. Case studies are a great tool to have on hand to show your expertise and success, while being transparent and personal, giving clients peace of mind when deciding to work with you. They also show clients that you are proud of the work you do, influencing them to reach out for help with future projects.
Talk to the Out-Smarts Team about marketing your case studies
By now, we're sure you're looking forward to writing case studies of your own successes. This article gives you a great framework to get going, and don't worry, we're always here to help.

Book a free consultation today to get the most out of your case studies.