Vancouver International Children's Festival (VICF) is an institution in BC. As the longest-running professional performing arts festival for young audiences in North America, it has been operating for close to half a century. Many of the city's residents, parents and children alike (including our team!) have happy memories of attending performances.
We jumped at the chance to work with them in 2019. At first, we supported their website with maintenance and update services like integrating forms into their operational processes. When it came time to redesign their website in 2020, we were honoured to be invited to work on the project.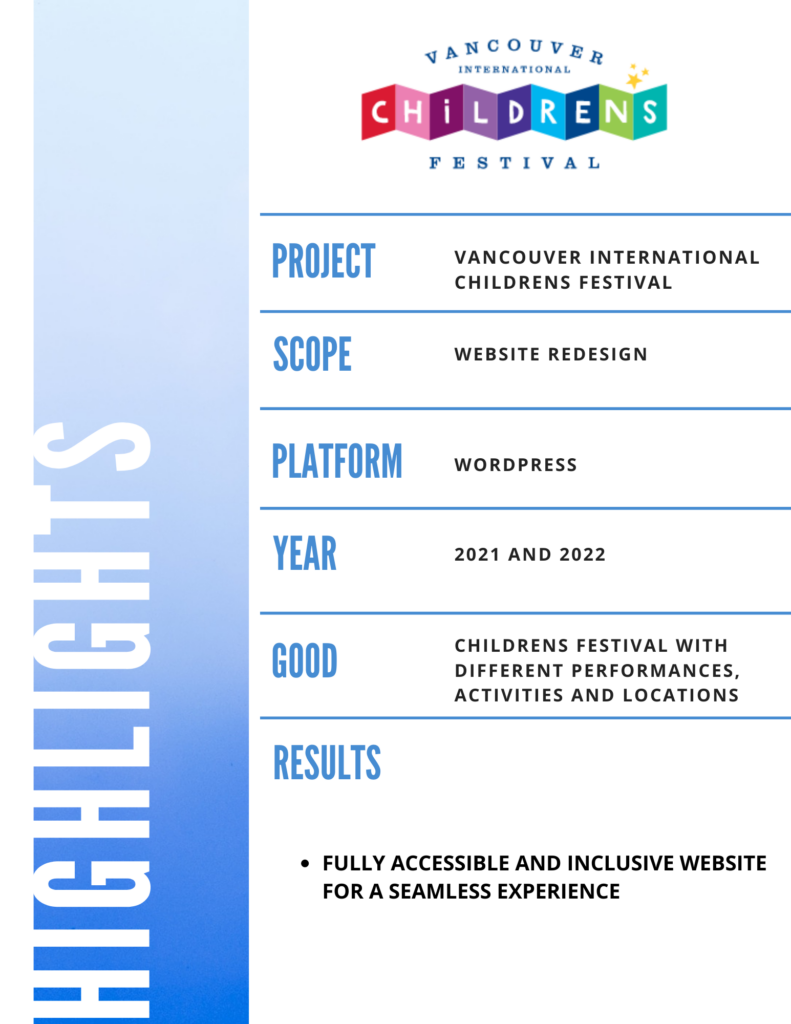 Background
The VICF website in 2019 was beginning to look a little dated. It wasn't easy for them to update the site using the content management system (CMS) because of the way the site had been set up. They found that it was taking them a long time to make changes that should have been simple. This together with their desire that the site reflect their inclusive values, and to make it accessible to people of all abilities hastened the redesign.
Website Redesign Discovery
All of our website projects begin with in-depth discovery sessions. Conducting these allows us to fully understand requirements and to develop a scope of work that outlines deliverables in detail. This ensures that everyone is on the same page from the start.
In this case, our discovery involved community partner interviews with parents, teachers, staff and the executive team to fully understand every aspect of the work. We met with technology partners (Formever) before starting the website modifications, to fully understand the technical aspects. This allowed us to learn everything we needed to know, and uncover opportunities to enhance the user experience.
Lightweight wireframing during the early stages allowed us to determine the best design for new features, updates to the editing interface to support those changes and development of changes to the templates for visitors on the front end.
Our next step was to outline the necessary components for each page including images, graphics, links, and functionality SEO. We created a content model, going through the site page by page to determine the goal for each page, which content, images, text, links and actions as well as any additional functionality required. This laid the foundation for the design phase.
Redesign
We began by simplifying the back end – making it seamless for the client to update information without losing valuable evergreen content that stays live on the site whenever the festival is not happening.
We also completely redesigned the layout of all of the major pages to echo formats similar to other community festivals online. The site's visitor experience was a top priority, so we added visual elements like a ticket timetable to draw eyes in.
The biggest change that we made was incorporating a responsive calendar into the new site. This calendar allows users to filter each performance based on different categories including genre, age, grade and even language. The calendar layout was formatted with the goal of making the overall design appealing and user-friendly.
Focus on Accessibility
One of the main areas of focus was making sure that the website is accessible to people of diverse abilities. Aside from being a requirement under laws in Canada, accessibility makes site navigation easier for all users. When choosing fonts and colour pairings, accessibility was kept in mind, ensuring the contrast between the text and colours increased readability. We added plugins that allow users to view the website, regardless of any accessibility challenges and increased the content accessibility with the use of Alt-Text. Alt-Text helps describe the appearance and function of a certain image on a page and it improves your SEO.
Visibility
To increase the visibility of the event sponsors, we created new pages with a unique layout, splitting them into two categories (donors and sponsors), which provided clarity on the sponsor tiers for VICF.
SEO
Our SEO project began with a full audit of their website to identify essential improvements needed. In order to retain as much of the link juice from an SEO perspective and transfer that over to the new site, we audited the site to understand the pages that attracted the most traffic and links and identified content that we could remove without impacting their SEO. With over a thousand pages, our work was cut out for us.
The next step was foundational SEO, which included: keyword research, creation of keyword-targeted META titles and descriptions, adding keywords-centric content to each page, managing redirects and identifying and fixing any crawl errors.
Some housekeeping was also needed, so we cleaned up old blog posts that weren't bringing traffic in.
The Results
As a result of our team's successful work, VICF now has a redesigned, SEO-optimized, accessible and inclusive website. With incorporated visuals and accessibility plugins for a seamless experience, and new content management modules in the back end which makes site updates easier. This website was built with everyone in mind regardless of their level of ability and we are excited to provide a great experience for teachers and families visiting this new site.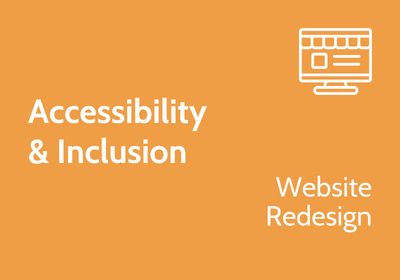 About VICF
Vancouver International Children's Festival is an arts festival for young audiences in the Metro Vancouver. Since 1978, diverse world performers have brought joy and happiness to children and families, from music, theatre, dance, puppetry, and much more.
In Customers Words
"We are very happy with our new website! Out-Smarts was a great partner to us every step of the process. Their in-depth and thoughtful research discovery helped shape the project in a way that optimized and improved the website experience for all our users. Their accessibility expertise was also invaluable. As an organization that is committed to accessibility, diversity and inclusivity it was important to us that our website to reflect our values. The journey with Out-Smarts helped us actualize our values and brought new life to our web presence."
Why We Loved This Project
Our team has very fond memories of the Children's Festival, from school field trips, to taking our own kids. The festival brings so much joy to Vancouver kids and parents, so it was an honour to be asked to design and develop their new site. The team at VICF are kind, respectful, professional and a pleasure to work with. We also loved that their main goal was to make the site more accessible and inclusive, which made this project even more rewarding!