Right before the pandemic hit, Out-Smarts began work with Arete Safety Training and Protection Inc. to improve their Google Ads and increase their pay-per-click (PPC) leads. The results were outstanding and due to our effective strategies, leads and conversions took off and they landed one of their biggest clients ever.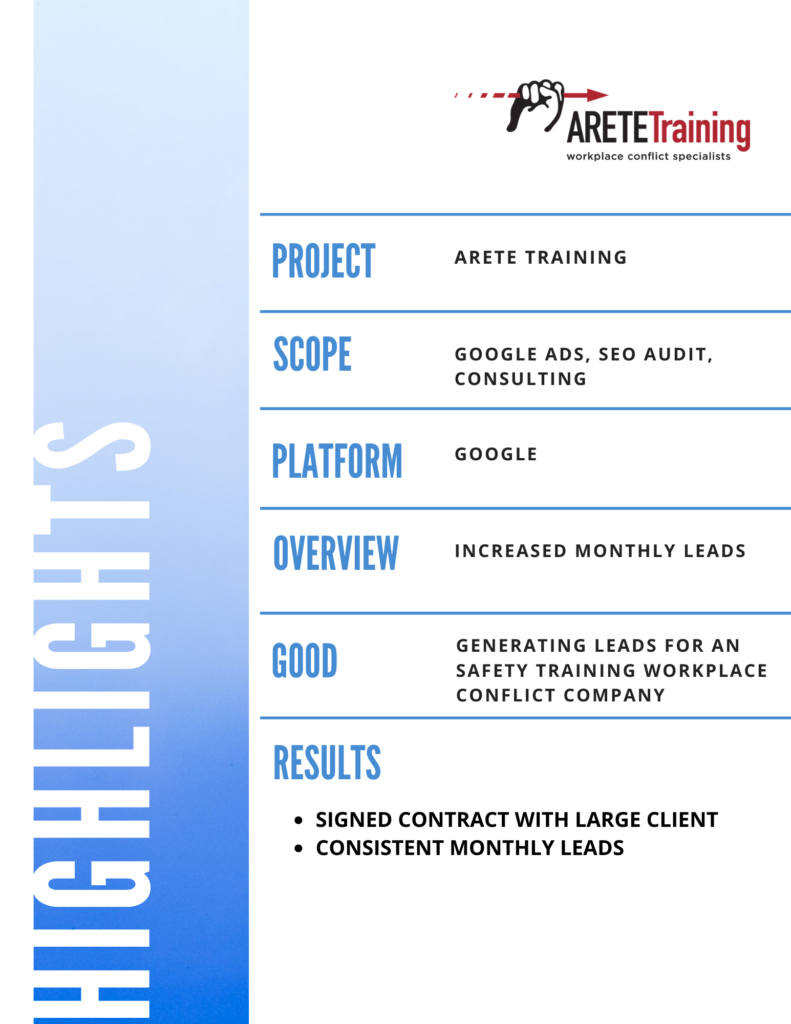 Background
Having worked with Hugh Pelmore at Arete over a decade ago on a social media project, we were thrilled when they reached out to us once again to ask us to help them improve their Google Ads campaigns and performance. At the time they were working with a different agency and weren't seeing the results they hoped for nor did they have the insight into their campaigns that they would have liked.
We started by conducting an in-depth Google Ads setup and performance audit. This identified issues with their current Ads environment and made recommendations as to how to improve ad performance, clicks and conversions to drive more targeted traffic. Among other things, we noted that they didn't have access to their Google Ads, which were being managed in the other agency's ad account. We strongly believe that clients should always own and have access to all of their assets; so this was a big red flag.
Our audits are done to a high level of detail, giving actionable recommendations. We took the time to step them through the results and as a result, Hugh and the team decided to engage with us to start setting up their Google Ads campaigns properly.
About Arete
Arete is a safety training and protection company, focusing on the prevention and management of workplace violence and conflict since 1992. Their goal is to change the way participants acknowledge conflict and violence and show them they have different choices to respond.
Google Ads
For this project, we had to build their campaigns from scratch. We identified the key topics they wanted to advertise around and used our proven methodology to match keywords and phrase keywords for the best results. We set up multiple campaigns targeting different areas in the USA and Canada. With the right strategy and targeting, we brought them outstanding results.
We created dedicated Unbounce landing pages, using the keywords and conversion tactics on the page. Every month we meet with them to go over the reports to tweak and improve campaigns if needed and make sure our work is aligning with their goals. Through our efforts in setting up and running ads around social distancing and work, how to manage COVID-19 and their pivot to online training, a key result stood out. A large client in Alberta discovered Arete, and they landed one of their biggest clients to date.
Consulting – Digital Marketing Strategy
Our regular monthly meetings included reviewing, brainstorming and supporting them with their ongoing digital strategy. We reviewed and suggested improvements to their social media, which they did in the house. We identified and helped introduce new tactics like email marketing and guided them on the best practices they can implement for great results.
The Results
As a result of our ads, they got a lead that resulted in them signing their biggest client ever. Our successful campaigns aided Arete in continuing to see multiple leads per month. Larger clients are able to find them easily due to our efforts. In addition to Google Ads, we audited their SEO and we meet on a regular basis to offer consulting and guidance on their digital strategy.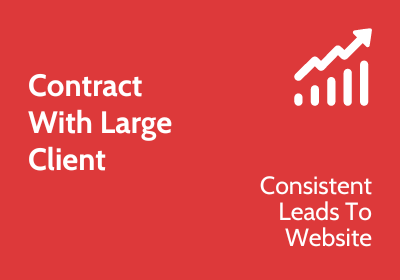 In Customers Words
The Out-Smarts team has helped our business in more ways than one! Not only do they offer exceptional service, but also, continue to bring fresh ideas to the table and are so committed to seeing us grow! I can't thank Mhairi and her team enough. We highly recommend them!
Hugh Pelmore – President, CEO, Senior Training Specialist
Why We Loved This Project
We love working with Arete as they are a fantastic, heart-centred team. The work they do is outstanding because they help people deal with conflicts in an innovative way. We started working with them right before Covid-19 hit. As a company whose business was conducted in person via face-to-face training, Covid had a huge impact on them however they didn't let this bring them down. They quickly pivoted and started putting all their training online. As a result, they now have a successful multi-channel business that is more resilient. To see a company devastated by Covid, yet tough enough to turn everything around and rise up stronger was incredibly inspirational. Having the opportunity to contribute to this was an honour. They are one of our ideal customers.