Out-Smarts worked with Fairware on search engine optimization through two redesigns, launching both new websites with no perceivable drop in traffic despite there being a complete revamp of the user flow, maintaining page one rank and growing traffic, with organic search rates up over 30%.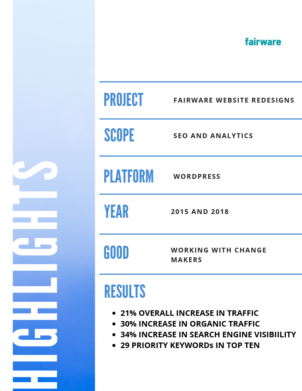 Background
We began working with Fairware in 2015 to optimize their freshly redesigned website. In 2018, it was time for another website redesign, and they chose Out-Smarts again to optimize their new site.
About Fairware
Fairware is a pioneer in creating sustainable, custom branded products for businesses. These B Corp founders take great care to ensure your promotional merchandise helps tell your story and animate your brand. Fairware brings emerging retail, consumer and sustainability trends to the forefront of promotional campaigns and product assortments. They're sustainable brand strategists and merchandise is their medium. Further, Fairware does the homework on ethical sourcing and sustainable materials so you can rest assured that your marketing merchandise lines up with your values.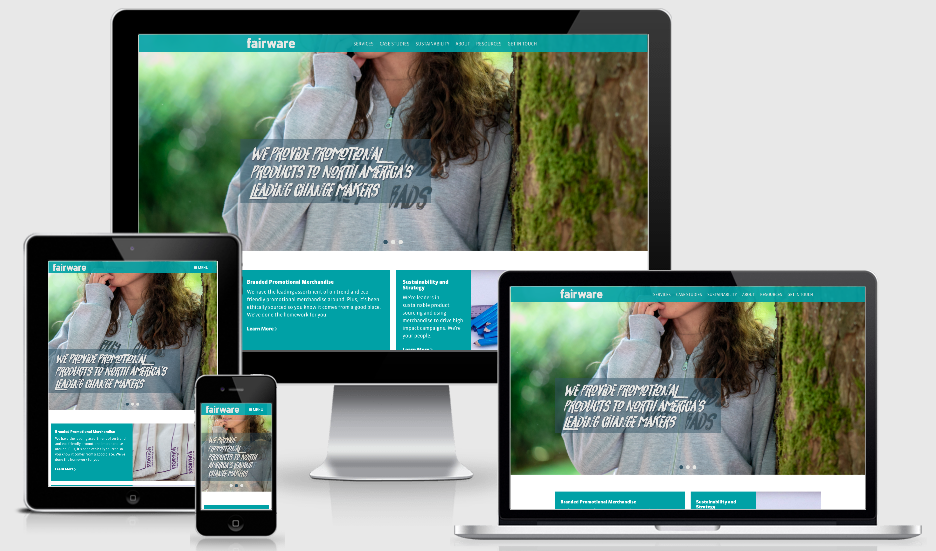 SEO Services
With this project, it was crucial to optimize both website redesigns to maintain or improve their page rank and positioning given that the redesigned site would have a different user flow and navigation. To ensure this, we worked with Fairware on keyword research, keyword mapping, creation of keyword targeted META titles and descriptions, managing redirects, and identifying and fixing any crawl errors. We also provided extensive Google Analytics consulting services and developed custom dashboards and reports to measure SEO, social media, and email campaign impacts.
The Results
By implementing these strategies, we were able to produce significant results for Fairware and by creating Analytics dashboards and reports for them, they're able to measure their efforts more effectively. Here is a snapshot of the results we produced.
Through both new website launches, there was no long term drop in web traffic. Fairware was not only able to maintain their page one rank, but they increased their positioning for priority keywords. Organic search rates went up over 30%. When it comes to first page rank for priority branded keywords and search terms, 29 keywords are now in the top ten Google rank for Canada and the US.
Results from the Latest Redesign
An overall increase in traffic 21% (in 6 months following redesign)

Increase in organic traffic 30%

34% increase in search engine visibility

29 priority Keywords in the top ten Google rank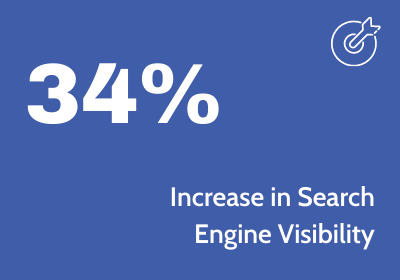 In The Customer's Words
"Fairware has worked with Out-Smarts on two projects so far: Search Engine Optimization for our website redesign and on developing an email marketing strategy. Traffic and conversions have increased, our business is growing and we're very pleased with the results. Mhairi is a joy to work with and has been great at building our internal capacity so we can continue the work in house."
Why We Loved this Work
At Out-Smarts, our priority is to work with clients that have mandates to make the world a better place. From their environmental impact to their B Corp status, to their ethical principles, it was a joy to work with and learn from Fairware, to understand their business and to provide search services to attract their target audience and improve their ranking. Through working with Fairware we believe we play a small part in helping disrupt and positively influence the promotional products sector.