Out-Smarts designed, developed and optimized a responsive one-page website that integrated to Eventbrite to promote registration for Pacific Immigrant Resources Society's Innovation in Childcare Hackathon.
Background
Pacific Immigrant Resources Society, approached us to work on a new and innovative project. This project was something that had never been done in their industry before – a social Hackathon. After evaluating proposals from several agencies, PIRS hired Out-Smarts, to design and build a fully responsive one-page site to support their Hackathon initiative.
This project had a modest budget and was initially set to have a tight turnaround with a little over a month from concept to creation. When they contacted us to see if they could launch a week early, we pulled out all the stops to make that happen.
About Pacific Immigrant Resources Society Hackathon
Pacific Immigrant Resource Society (PIRS), a non-profit organization, is hosting a social (non-tech) hackathon to come up with everyday solutions to real-life problems faced by immigrant women and their children. This is an incredible opportunity to get involved, give back, and collaboratively find better solutions to the ongoing childcare needs in our community. The Hackathon's goal is to better meet the needs of young families across the Lower Mainland through this dynamic and innovative social enterprise initiative.
Website Design and Development
Out-Smarts excels at WordPress work, but sometimes a content-managed solution is excessive for the project at hand. In this case, PIRS had minimal content requirements for the site and — given the time-sensitive nature of the hackathon event — required few future content changes. These factors made a single-page, standalone site the best (and most cost-effective!) option for the non-profit.
We designed a bold but accessible look for the hackathon site using a few images PIRS provided us and a two-tone colour scheme based on the organization's brand colours. The webpage itself was handwritten (rather typed!) in good old HTML and mobile-friendly, responsive CSS, two foundational tools of the web for structuring and styling content. Our use of subtle yet snappy transition states and slightly skewed design accents help to really convey the fun, modern sensibility PIRS intended for this government-funded project.
The Results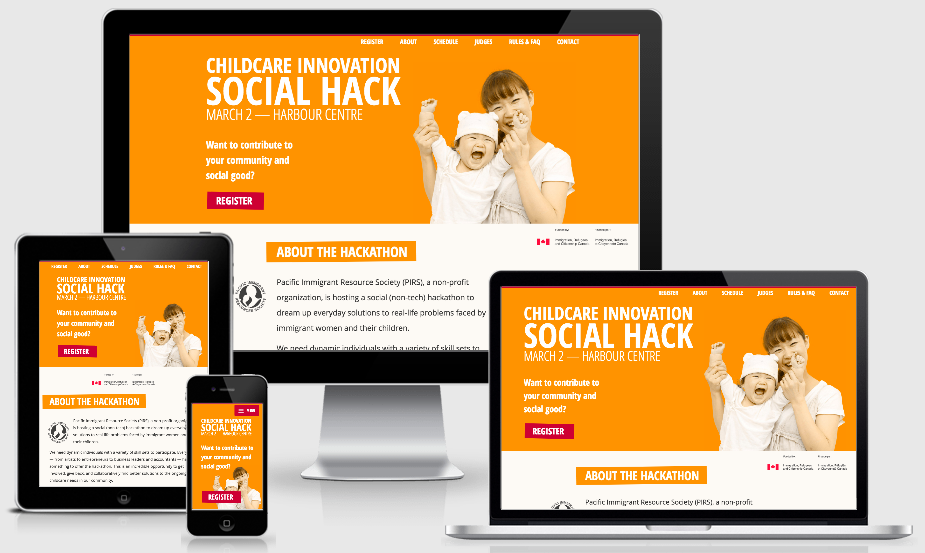 PIRS needed a responsive, one-page website on a tight budget and turnaround time. We were able to give them a successful launch one week early, with a modern, upbeat, and simple user flow tailored to the updated version of the PIRS brand. By taking the time to get to know their values and intentions of the project, we could create a custom web design that reflects the innovation and optimism of the Hackathon.
In The Customer's Words
"It is rare to find a caring multi-talented team like Out-Smarts. The feedback we've received has been incredibly positive. Out-Smarts delivered a site that stands out and showcases our Hackathon in the best light. Their team took the initiative to step up and help us to take this from concept to creation to launch in a little over a month and days ahead of schedule. Mhairi and Kyle truly showed that they cared about our organization."
Why We Loved this Work
The PIRS Childcare Innovation Social Hack is such an incredible cause to bring attention to childcare solutions and can have a huge impact on immigrant women and their families. We're proud to be a part of such an innovative cause to help our fellow Canadians and we are happy to be able to pull together to launch the site ahead of schedule.