Out-Smarts partnered with DoMatcha, one of the world's most trusted matcha brands, to develop and implement a strategic and well-executed social media marketing plan to drive sales and build brand awareness.
Working with directly with DoMatcha's founder and International Director John and Anna Harrison and the DoMatcha team to learn about the company behind DoMatcha, their unique competitive strengths, and the value they offer, we were able to use social media to engage a highly targeted audience, strengthen their brand, and nurture relationships with their customers and prospects.
Background
We have been working with the DoMatcha team on their social media since September 2017. They had goals to expand their presence online by building brand awareness, developing an online community, and to ultimately increase sales.
About DoMatcha
DoMatcha is one of the world's leading matcha tea brands producing 100% authentic Japanese matcha, directly from Kagoshima and Uji, Kyoto where matcha originated and where the most premium quality matcha is produced. Their matcha is supported by the famous Japanese tea master Mr. Kazunori Handa, whose family's knowledge and expertise has been handed down generation after generation for over 400 years.
Social Media Strategy and Planning
John and Anna Harrison wanted to see a stronger online presence for DoMatcha to share their matcha with a global audience, and to integrate their social media with their other digital channels such as their email marketing. To help them reach their goals, we worked with them to develop a strategy to increase brand awareness, build online relationships, and increase their website exposure. Since good planning is the foundation to any successful marketing endeavours, we took the time to work with key members of the company to ensure we knew the brand and their goals inside and out.
Social Media Community Management
We managed the DoMatcha brand across four major platforms, Facebook, Instagram, Twitter, and Pinterest. Our goals were to develop their brand awareness, foster an online community, and increase website traffic. We built brand awareness by growing the DoMatcha following on social media to increase word of mouth and authentic referrals and reviews. The result is a following that matches the demographics, interests, and behaviours of their target customers. When you have a strong connection with your audience through engagement, they are more likely to support and buy from you. That's why we based a lot of our community management tactics on increasing engagement (likes, comments, messages, etc) on their social media platforms. Our third pillar of community management was increasing web traffic. By curating content that leads back to the DoMatcha website, we were able to increase sales.
Social Media Advertising
We focused on developing social media advertising campaigns on Facebook and Instagram that drove high volumes of traffic to their website. We ran a combination of engagement and page promotion posts and increased numbers within a modest ad budget.
Social Media Reporting and Analytics
Showing proof of our work is the best part. We prepared detailed monthly reports for the DoMatcha team to review. They also have access to view their campaign's progress at any time. We also provided the option for monthly strategy meetings to disseminate the data and plan for more growth.
The Results
Facebook
38% increase in page likes
97% increase in reach
106% increase in page views
164% increase in post engagements
Instagram
250% increase in followers
118% increase in impressions
70% increase in reach
185% increase in profile views
254% Increase in user-generated content on tagged posts and Instagram Stories
Twitter
45% increase in followers
74% increase in impressions
Pinterest
6% increase in followers
204% increase in daily impressions
258% increase in daily viewers
Website Sales
634% increase in website sales of DoMatcha from social media traffic in 2018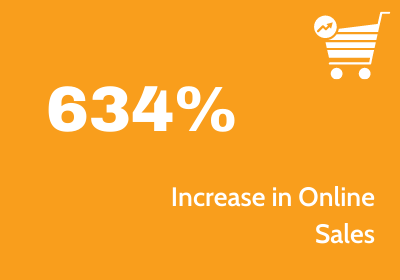 In The Customer's Words
"Out-Smarts has been an instrumental part of DoMatcha's success. They have headed up our Social Media side of the business and really assisted us in getting our message out to the world. We would highly recommend Out-Smarts to anyone who needs digital marketing services for their business."
John Harrison – Founder – DoMatcha
Why We Loved this Work
It's part of our mandate to work with ethical companies, and DoMatcha's authentic brand was an honour represent on social media. Having full-service strategy, management, advertising, and analytics over the DoMatcha social media feeds meant we could really dig in and get to know the company and their target audience to grow their brand in a significant manner.