Out-Smarts worked with Canyon Equipment on Search Engine Optimization (SEO) and improving user experience (UX) on their website in order to increase targeted traffic and to help visitors convert into leads. Targeted traffic increased almost instantly and they're receiving lots of qualified leads each week.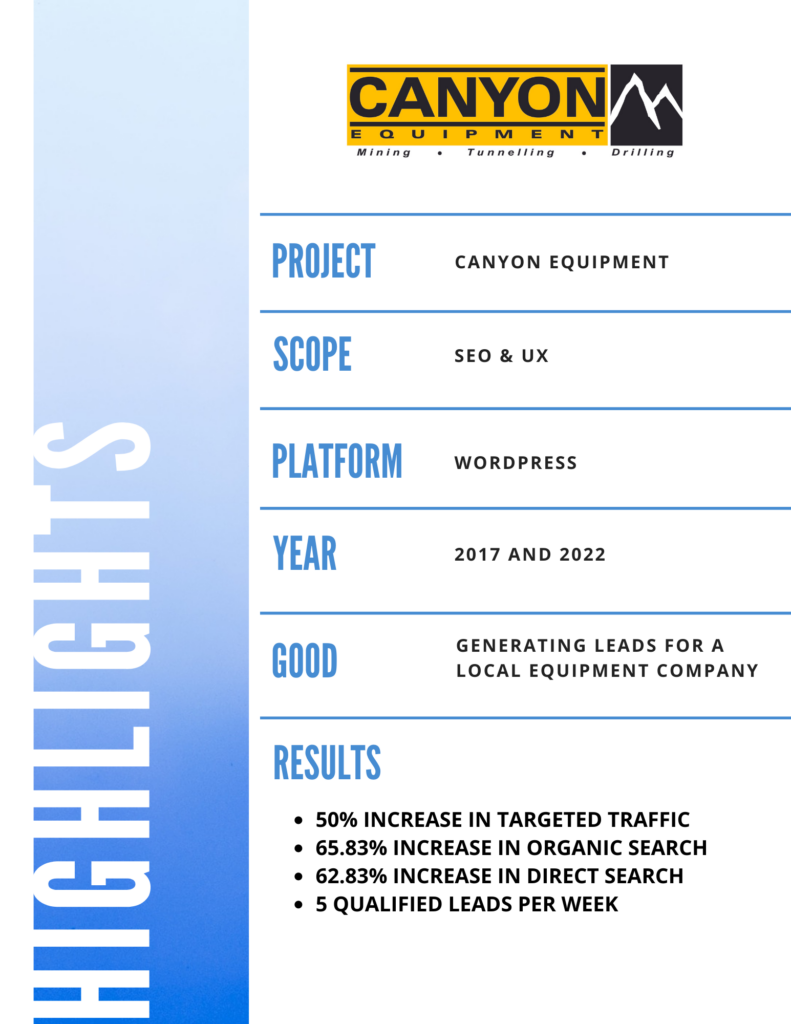 Background
We first started working with Canyon Equipment in 2017 to optimize their previous website. In 2020 they worked with another company to rebuild their website. Things didn't go as planned from an SEO perspective and once the new website launched leads dried up. This is when they again reached out to engage us, hoping that we would once again work our magic and produce outstanding results. Which is exactly what we did.
About Canyon Equipment
Canyon Equipment is a small family-run organization located in BC, specializing in mining, tunnelling and drilling equipment. They often compete with giant global companies. They specialize in all sorts of underground mining, rock drilling and tunnelling equipment. One thing that makes Canyon Equipment stand out from the rest is that they put customers first and build relationships that last.
SEO Services
For this project, we improved Search Engine Optimization and enhanced the user experience on the Canyon website. We started with an SEO audit, to help us identify what needed improvement. We conducted foundational SEO for their pages and products. This included: keyword research, creation of keyword-targeted META titles and descriptions, adding keywords-centric content to each page, managing redirects and identifying and fixing any crawl errors. Improving their user experience included reformatting product pages, changing call-to-action components, adding links for easy navigation and improving the functionality of the search.
The Results
By making these changes, the results were almost instant, 66% more targeted traffic resulting in 5+ qualified leads per week. Here is a snapshot of the results we produced.
66% more targeted traffic
Increase in organic search 65.83%
Increase in direct search 62.83%
5 qualified leads per week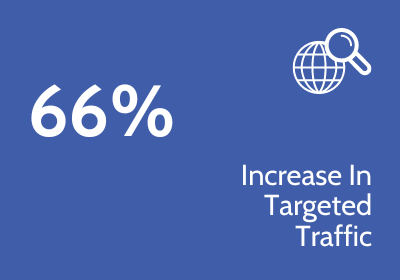 In The Customer's Words
"Mhairi and her team are a complete pleasure to work with! We've hired them twice over the last six years to help with our SEO and conversion on our website.
The process they go through to understand your business and what your customers are looking for, is very thorough and thoughtful. Mhairi really takes the time to understand your business and what your and your customer's needs are.
The first time we hired them to help with SEO, the traffic and conversion increase on our site was almost instant. Fast forward six years… we were looking to redesign our site but mistakenly thought Our-Smart wasn't working in our industry anymore. We hired a different company, and although the site itself is very nice visually, we lost ALL our conversions as soon as the new site went live. After limping along and trying to "right the ship", we reached out to Mhairi again and to our surprise and delight, she took us on! Once again, the process was thorough and once changes were implemented, we saw the same conversion rates increase to the levels we had from our old site.
I'm not sure how they do it entirely, but I can tell you that this team knows their stuff… they work miracles and we will never stray again from their business."
Jane Webb – Canyon Equipment
Why We Loved this Work
It is always great to support a family-run organization and to help them compete against multinational organizations. Jane and Pete are a pleasure to work with and we were really happy that they came back to engage with us for a second time. It's really rewarding to see the impact of our SEO efforts and to know that this is resulting in a strong return on investment for them.