We mentioned general tips in our recent blog post and today we're listing specific social media tips for communicating effectively on these platforms at this time.
While some Provinces in Canada slowly open businesses and public areas, clear and transparent communication is essential for businesses as we adapt to this "new normal." One of the easiest and most convenient ways to communicate effectively with your customers and community during COVID-19 is through social media.

Studies show that only a quarter of businesses have a crisis plan; the rest either have an out-dated crisis response strategy or don't have a plan in place. Although many businesses are navigating through these unprecedented times without a concrete plan, there are ways that you can still communicate effectively with customers.
With more users glued to their devices, social media makes it easier for you to reach a captive audience.
The social media tips we're providing today touch on different tactics that can be used specifically to help you do so effectively.
Our Social Media Tips on Announcing Re-opening Plans Clearly
While some communities are lifting their restrictions and businesses are opening up, it's still essential to set appropriate expectations and to not mislead in any way.
As the situation changes day-by-day, new policies and plans can affect the way you operate as a business. Be transparent with your audience so that you can pivot quickly without having to mitigate questions or potential frustrations with customers.
If your business has been given clearance to operate, now is not the time to announce that you'll be running business "as usual" – it's going to be awhile before we are really all back to business as usual.
Get as much information regarding new operating guidelines as possible, and ensure that these have been put in place before publicly announcing anything. Keep in mind that these plans are not set in stone – things can change as you monitor the current situation.
Keep your Social Media Channels Aligned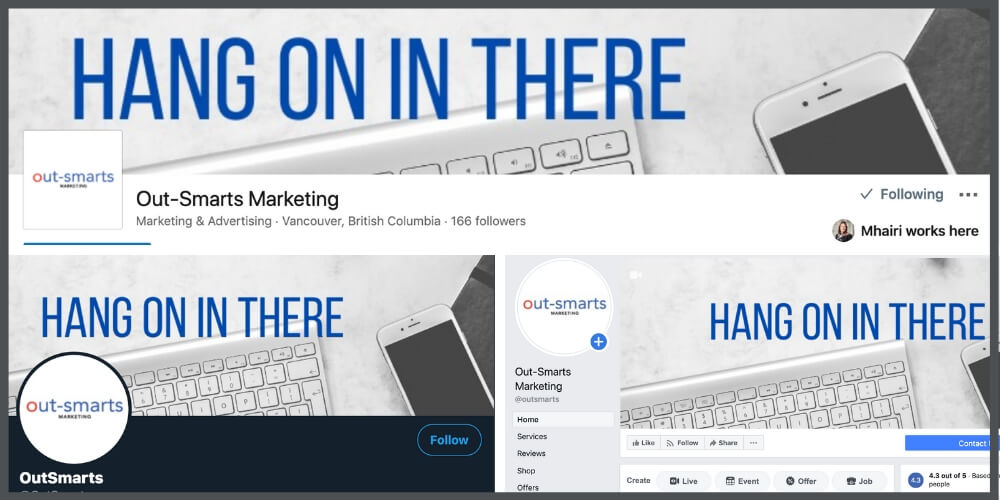 You may have the same people following you on different social media platforms. For this reason, keeping all of your social media channels up-to-date with a coherent message is a must. If you are active on Facebook, Twitter or LinkedIn, it's wise to keep all of these social channels aligned, highlighting similar information with the same key messages to avoid any confusion.
Update Your Social Media Profiles With Pertinent Information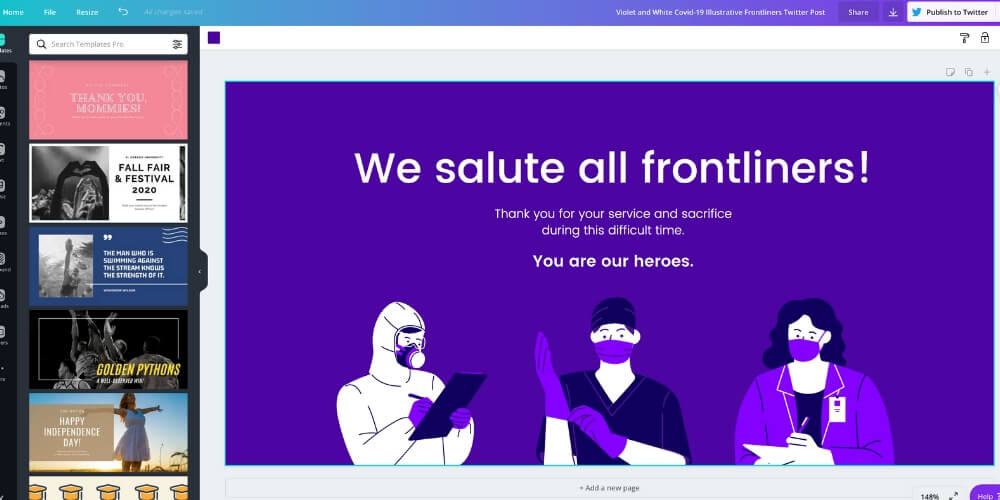 Here are some specific ways you can highlight the information that counts on your social media profiles:
Create and upload new cover images that highlight your current status (

Canva

is a great tool for creating beautiful custom images like this on the fly).

Update your about sections and bios to emphasize new ways of operating.

Include a link to your website in your bios or update your current link to direct people to your online store, online calendar or booking schedule if you are pivoting to work from home or using a virtual business model.
Social Media Content Curation
Your social media profiles aren't the only elements you should consider updating. The way you approach social media content curation should also be different to what you have done in the past. It's paramount that you continue to interact, share and have conversations with your community on these channels: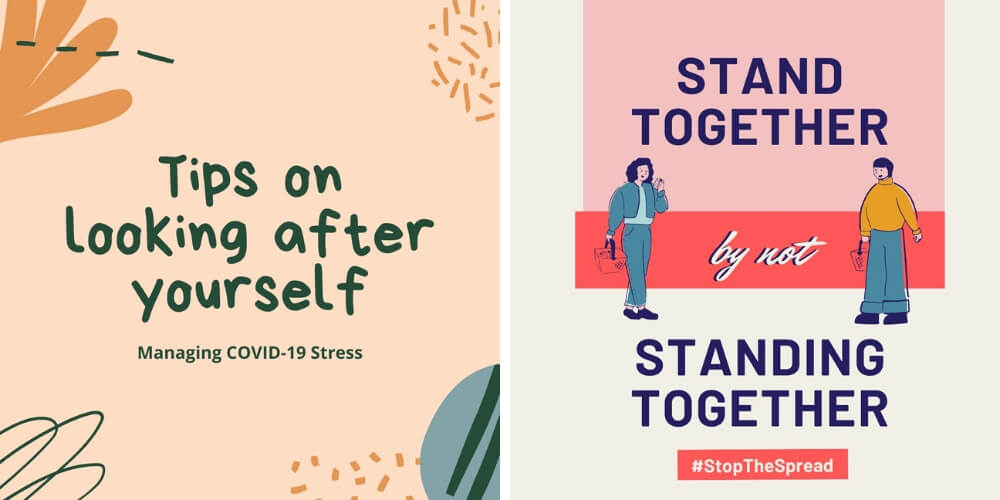 Try to make be as upbeat and positive as possible in your posts, comments and replies

Remain factual and stay on topic with your content

Be strategic in your approach without adding unnecessary noise

Remember, that this has affected every aspect of life, leaving many people in shock so communicate with empathy.
Because the life cycle of timeline posts is quite short, it's wise to pin the post that offers the most pertinent information to the top of your page or profile, so that followers can easily access the information that counts.
Streamlining your Approach on Specific Social Channels
The social media tips mentioned above apply to all social channels. However, there are specific measures you can take to streamline your process on Facebook and Instagram.
With more than 2 billion users on Facebook and over 100 million users on Instagram, it's wise to tailor your approach, and this doesn't just involve keeping your profiles up-to-date.

Optimizing Your Facebook Page to Handle the Current Times
Facebook Messages
Aside from email or a chat function on your website, prospective customers or engaged users will use Facebook to reach out to you directly. This means having to field inquiries beyond your usual operating hours and when you or your team are busy doing other things.
Provide prompt follow-ups by setting up your Facebook messages to respond to FAQ's and/or immediately respond when you are offline. Not only will this minimise the amount of time spent to manage online inquiries but it will also provide your audience with a better customer experience.
Custom Facebook Call-To-Action Buttons
On Facebook customize your Call-to-Action Button (the one that appears to the right below your cover image) to emphasize the action you want customers to take right now i.e. Shop Online or Sign Up (to receive email notifications).
Make It Easy For Customers To Shop on Facebook
Facebook and Instagram offer shopping solutions that allow you to showcase your wares on these platforms and integrate them with your online store. Doing so makes it easier for your followers to shop with you straight from their favourite platforms.
Social Media Ads To Reach More People in Your Community
It might be beneficial to broadcast business updates to a wider audience or to reach more people in your local community by using Facebook Ads.

Creating a Sense of Community Through Instagram
The approach to Instagram differs from Facebook in many ways. If your target audience is younger, you can use this platform as a way to generate a sense of community with your audience (in addition to communicating updates about your business).
Use the stories function to bring people together – tagging key members of your audience.

Don't forget to use the Instagram stickers (like "Stay at Home") to highlight your message if these are relevant to your business.

If you have any new announcements to broadcast to your audience, you can do so easily by going Live on your stories too.

Don't forget to use any appropriate hashtags on your timeline posts so that your content is discoverable by people within your community too.
Our Last Thoughts
COVID-19 is an unprecedented time that is new to communities, businesses, and people alike. There is no formal "play book" to navigate through this smoothly. One of the best social media tips we can offer is this – keep your audience informed sensitively, mindfully and educationally.
While the current situation may mean the slowing down of usual business operations, use this free time to take stock. Revisit your existing content strategy to review your campaigns, content and scheduled posts. Only continue with content that is sensitive and relevant and don't take advantage of the situation in any way.
Look for ways to support your community and take this opportunity to develop new relationships one-on-one on social media. It may be some time before we see life returning to normal, but businesses and communities can create positive connections, lifting people up during an uncertain time.
Our business has seen the effects of this pandemic on our clients, partners and those we support, and we are here to provide support, guidance, and insights beyond social media tips where we can. Contact our team to learn more about how we can help you navigate and communicate effectively with your audience at this time.