Since its inception in 2002, Out-Smarts has been a virtual organisation.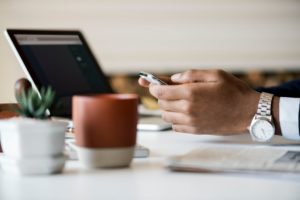 We had a brief flirtation with bricks and mortar a few years ago but it wasn't a good fit.
A virtual organization is an organization involving detached and disseminated entities (from employees to entire enterprises) and requiring information technology to support their work and communication. Virtual organizations do not represent a firm's attribute but can be considered as a different organizational form.
Or in plain English – a business that has no physical location that depends on technology to operate effectively.
Virtual Business Benefits
In 2018, a business like ours doesn't need to have an office. The ubiquity of online tools makes that possible. These tools make it easier to start and grow a business since your overheads are much lower (which is especially important in a place like Vancouver where office space is at a premium). But big businesses are clueing into the benefits too.  Telecommunications giant TELUS has a goal of having 40% of their team members working on a mobile basis, 30% working within TELUS buildings, and another 30% working from home full time.
Not only does being virtual keep your costs lower but it's also way better for the planet as well. Teams who work from their home office don't have to drive or take public transit which means less pollution being emitted into our planet each day. It also leads to higher scalability. With a physical office, increasing your staff often requires moving into a larger office space. With a virtual team, you can scale up your business without worrying about the extra costs associated with the required square footage.
Even back in 2002, it was possible to run a business virtually as long as you had an internet connection (although those were a lot slower back then), good processes and communication channels in place. This still rings true, although it's much easier now thanks to cloud computing, apps and social media.
More importantly, though, working for a virtual company is good for the soul. It gives your team more flexibility to put their lives and families before their work (which is the way it should be anyway), it gives them more flexible work hours and no commute time which makes them happier and more likely to stay not to mention more productive. Happy Team = Happy Company = Happy Customers.
Of course, no good thing is without its drawbacks. With a virtual business, there is a risk of isolation, less cohesiveness, and a lack of camaraderie amongst employees. In a virtual environment, there is much less opportunity for spontaneous conversations that could lead to collaboration or new ideas. There's also the chance that things can get lost in translation or misconstrued in electronic communications. To tackle this at Out-Smarts, we make sure to stay on top of our social side, and even schedule it into our calendars each month. We have weekly update calls with our team members, take the time to ask about our respective weekends on Monday mornings, and get the whole team together for beers once a month.
We've come a long way since 2002 when it comes to optimizing our virtual business, but we're always keeping an eye out for new ways to improve our company culture and create a rewarding experience for customers and team members. Along the way, we've picked up an arsenal of tools that have become mainstays for productivity and efficiency. Here are our favourite tools for running a virtual business:
Virtual business tools that we can't live without:
We've never met our bookkeeper, she lives in the US but that doesn't matter – online accounting and invoicing software (Quickbooks) allows us to easily share financials.
Teamwork – This project management tool has recently come to the top of our list of must-haves. Team members can see all ongoing projects, tasks, and deadlines at a glance which helps keep everyone on track. It also enables us to give clients an insight into what we do for them and lets us set deadlines, hours and stay on top of communications.
Boomerang for Gmail – This is a tool for anyone battling an overstuffed inbox! Boomerang allows you to schedule emails to be sent out at a later date, set reminders to follow up, and take emails out of your inbox until you need them.
Google Docs and Google Drive– We are able to share all of our documents and spreadsheets and it's perfect for collaborating on a project in real time. We're also able to categorize our projects and link back to Teamwork.
Google Calendar – The integration with Google Calendar and the rest of the G-Suite tools makes this an easy choice. We use it to schedule meetings, pencil in vacation time, and invite attendees to events. It also integrates with Google Maps which helps by calculating trip times and sending prompts for when you need to leave.
Office 365 – This classic suite of Microsoft Word, Excel, PowerPoint, Outlook, OneNote and OneDrive is a mainstay for creating content.
1Password – It took us a few tries to find a password vault that worked well for us. We found 1Password to be the right fit for our company as it lets us store documents, logins, and other confidential information in one place.
SquareUp – This is a free point of sale app that lets us accept card payments, manage invoices, and give digital and printed receipts.
WordPress – We build all of our websites on WordPress. We love the versatility of being able to create beautifully designed custom websites on a trusted platform.
Hootsuite – We schedule, manage, and monitor social content for our clients through Hootsuite.
Grasshopper – Virtual phone systems like Grasshopper have helped us run our business through our cell phones. We can host phone extensions for everyone on our team, set up call forwarding, voicemail, and more.
JoinMe and Zoom – For a team to work together towards the same goal, there needs to be the occasional conference call. We like web conferencing tools like JoinMe and Zoom, and even use them for meetings with out of town clients.
Skype – For getting in touch with clients in the US, we rely on Skype for free online calls, messaging, and affordable international calling to mobiles or landlines.
Milanote is a tool for organizing creative projects into beautiful visual boards. By design, it feels a lot like working on the wall in a creative studio – visual, tactile and sometimes a bit messy – Milanote is a great fit for designers who work in teams remotely.*
With the use of the tools above, office communications are available to us from almost anywhere in the world. These technologies we've adopted not only streamline communication but provide practical services that empower our team to stay on task and stay engaged.
Need help growing your business? Contact us to find out what we can do.
*sponsored post