We are excited to announce the launch of the new Vital Plumbing + Heating website.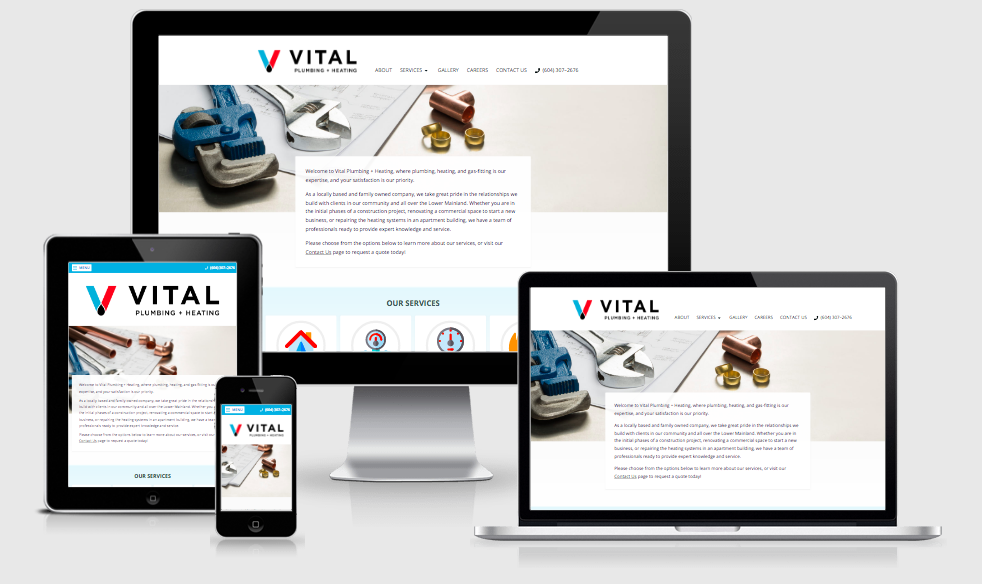 Vital Plumbing + Heating is a locally-based and family owned company that has a long history with their clients in the Lower Mainland. They handle projects of all sizes, whether their clients are in the initial phases of a construction project or repairing the heating systems in an apartment building, they have a team of dedicated professionals ready to provide expert knowledge and service.   
WordPress Website
We worked with Vital Plumbing + Heating to create their vision of a WordPress website with a streamlined user interface that draws potential clients in with a fresh feel and easy to navigate design. Because dealing with the internal plumbing of a home can be stressful for homeowners and construction companies alike, we wanted to create a site that conveys a professional, simple solution to whatever issues they may have. To achieve this, we used a combination of clean lines and captivating imagery to attract their target audience.
Formerly known as Pacific Coast Ventures Inc., the foundation of what is now Vital Plumbing + Heating is a true Canadian immigrant success story. Arriving here with modest means, founder Ahmad Arang gained employment and Red Seal journeyman qualifications and went on to start his own business from scratch. Almost 20 years later, armed with a team of local experts, their company is well established with a proven track record of excellence.
SEO and Analytics
We worked with Vital Plumbing + Heating to make sure that they didn't just have a beautiful website, but a search engine optimized one as well. Providing SEO services on all of our websites ensures that our clients get a boost in online visibility and can generate more business. As with all of our builds, we submitted the website to Google Analytics and Bing to gain more exposure.
We are proud to work with companies such as Vital Plumbing + Heating to help them achieve websites that are not only beautiful to visit, but are intuitive to navigate and deliver results.