We teamed up with a widely recognized and trusted manufacturing company in the lower mainland, to redesign and develop a fresh new website.
A comprehensive understanding of their values and goals aided us to thoughtfully design a new, fully responsive site, completely transforming the look while giving it a fresh modern feel, boosting traffic both organically and from their Google Ads campaigns too.
We built a fully responsive site with WordPress to create a completely clean, contemporary look and feel to the innovative new site. With organized navigation, users can easily find exactly what they're looking for. Users can also use the navigation bar which drops down to show the wide array of style options available.
Website Redesign – The Vision
Custom Visual Desktop Menu
One request our client had for the site was a custom menu that would only appear to users on desktop devices. We worked with them to achieve their vision for this and to provide visitors with a visual menu of the style options they carry.
Maintaining SEO
In order to retain all of the previous traffic and SEO juice from the original site, we maintained all external links, sending users to the website. By doing this we were able to keep consistent traffic from all streams and grow traffic without losing any existing traffic or link juice.
Website Relaunch – The Results
This relaunch saw strong growth in traffic. In the first month alone, a double-digit increase in organic traffic and site conversions. Furthermore, since the launch, site traffic has skyrocketed by almost 100 percent from the previous year with an increase in conversions of fifty percent.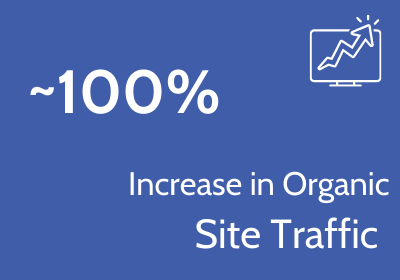 What We Loved About this Project
It's always rewarding to see SEO success from a site relaunch and the leads and revenues that result. Our client put their trust in us to guide them in the right direction and we were able to work together to successfully bring their vision to life.