About Our Client
City Centre Urgent Primary Care Centre (UPCC) opened in late 2018 with a mission to alleviate emergency wait room times by providing timely access to care for people with urgent but non-life-threatening conditions. The UPCC is also mandated to enable attachment of patients with family physicians in their local communities.

Background
They had a unique problem for us to solve; as a brand new concept in Vancouver, they needed to educate the public on what an Urgent Care facility is, and they needed to start getting patients in the door. Methodically we went about creating a highly targeted online presence that would help potential patients in the downtown Vancouver core to find out about UPPC. During the time that we worked with them, daily patient volume increased more than twelve-fold since January 2019. Online, UPCC showed up in over 70,000 Google searches, and over 7,000 searchers took actions on their listing.
As part of our strategy, we implemented a 4-pronged digital marketing approach: paid google search ads, tracking google analytics, social media setup, ad campaigns, and content creation.
Google Search Ads
For a medical centre, local listings are a main area of focus. We used Google Search Ads to specifically target people living and working in the downtown core. For people searching on Google for 'Urgent Care' and 'find a doctor' related searches we set up Ad campaigns that had over 60,000 impressions and drove over 3,000 highly targeted searches to the website – all from searches from the downtown core.
Google Analytics
Analyzing the outcomes of our work is a crucial part of what we do. Each month, our team prepared detailed reports for the UPCC team to review. They also have administrative access to view their campaign's progress at any time. With all of our clients, we offer the option for monthly strategy meetings to disseminate the data and plan for more growth. Between the months of June-August, we were able to track a web traffic increase of 25%.
Content Creation
We utilized social media as a powerful tool for education and positioning. It was important not only to spread the word about the new clinic, but also to educate the public on what medical situations are best suited to an Urgent Care Centre.
To help UPCC reach their goals, we worked with their team to develop a strategy to increase brand awareness, build online relationships, and increase their website exposure. We were able to learn their voice, objectives, and core values by working closely with key members of the clinic to ensure we knew the organization inside and out.
We managed the UPCC across three major platforms, Facebook, Instagram, and Google My Business. We built brand awareness by growing the UPCC following on social media to increase word of mouth and authentic referrals and reviews. The result is a following that directly matches the demographics of their target audience.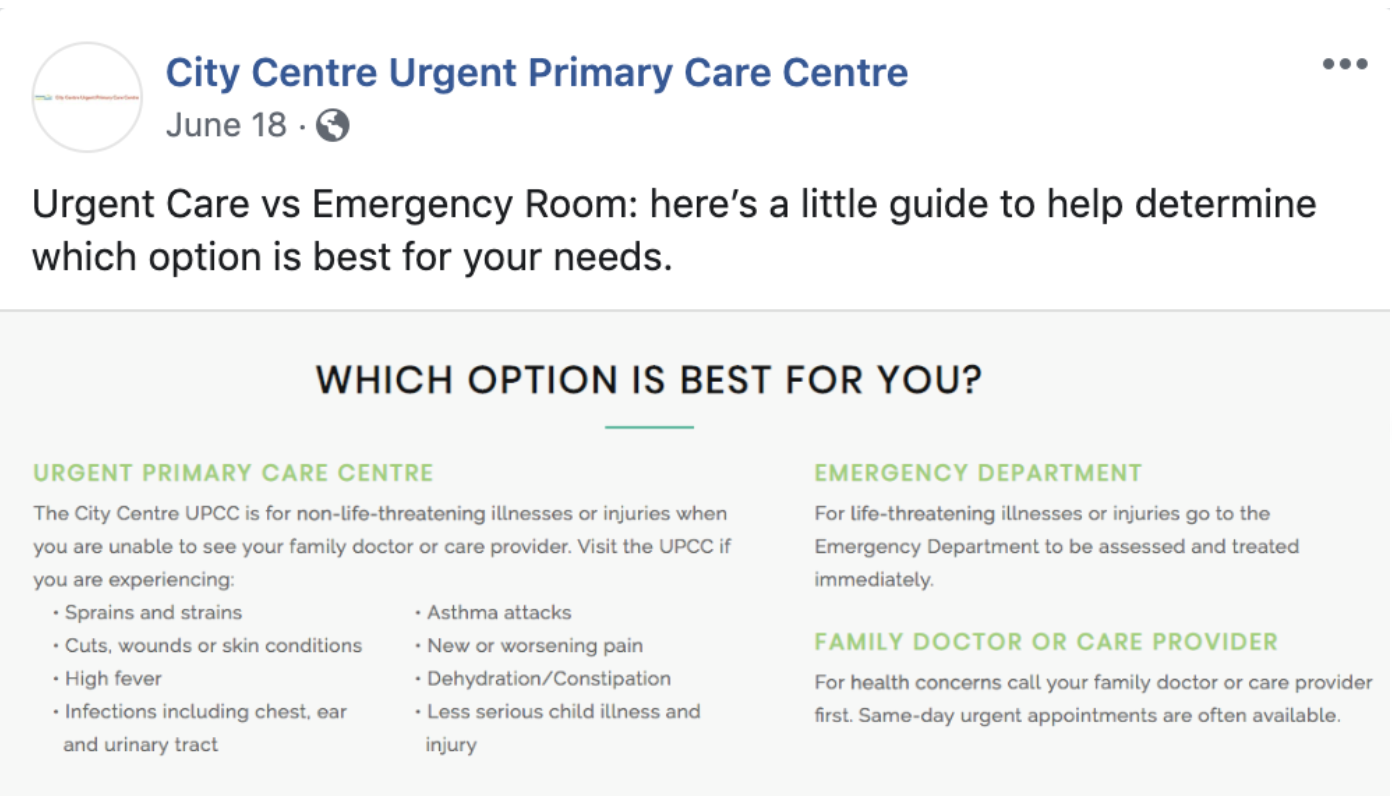 In just a few short months of starting their social media accounts from scratch, the monthly Facebook reached 6,094 visitors, and we grew the monthly Instagram impressions to 5,200. The UPCC Google My Business page saw over 25,000 monthly views, and 2,500 direct actions on the page, including 1,400 phone calls. Below is a snapshot of the directions requests based on our targeted approach.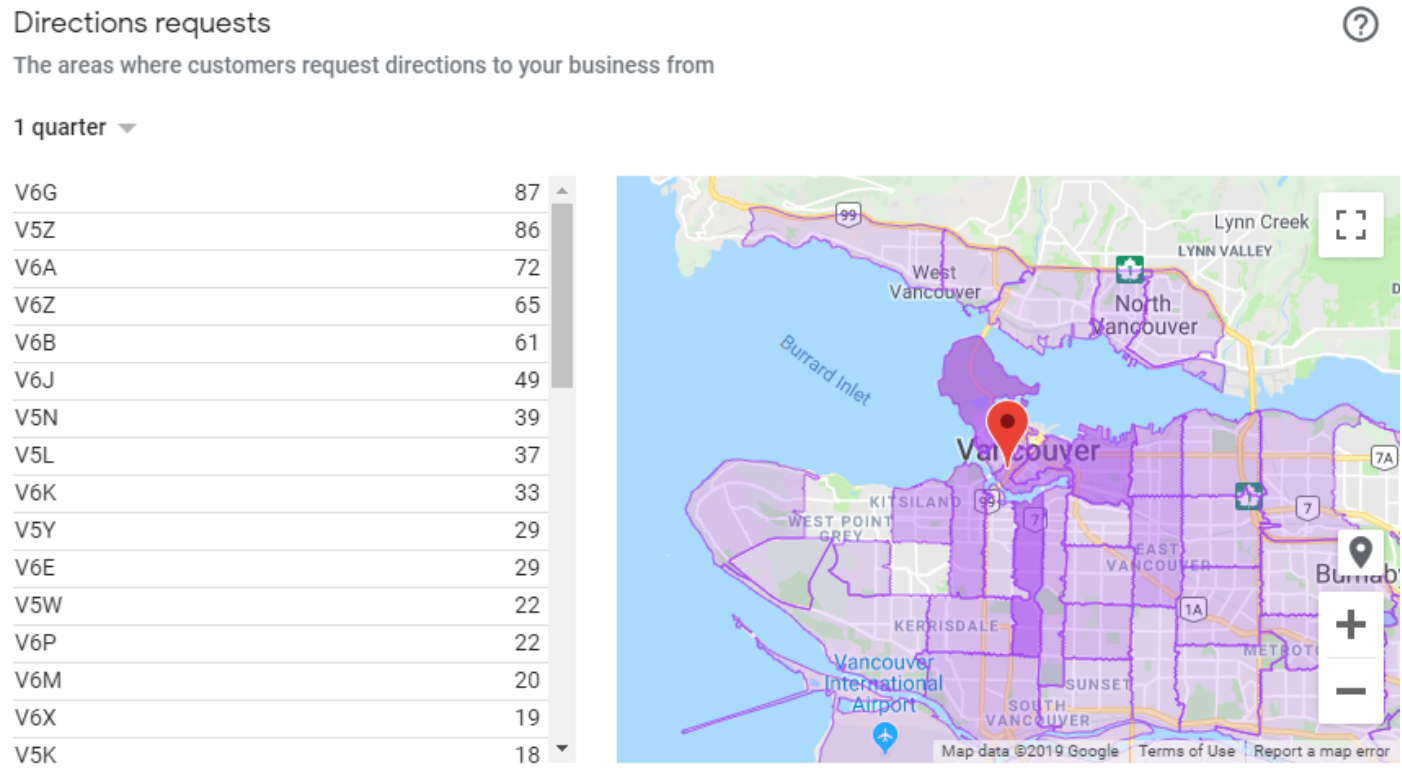 In the Client's Words
"Working with the Out-Smarts team helped us launch our new clinic with clear goals and directives. They spearheaded the digital strategy so we could focus on patient care inside of the clinic. Their approach was knowledgeable, tenacious, patient, professional. We highly recommend Out-Smarts to anyone looking to integrate digital marketing into their business."
Ali Shukor, Director of Clinical Strategy
Why We Loved This Work
At the crux of City Centre Urgent Primary Care Centre's campaign was the singular mission of making it easier for patients to find the urgent care they need. When it comes to digital marketing, that means focusing on the local vicinity. More and more people turn to search engine results prior to making a conversion. By focusing in on the downtown core population, we were able to position City Centre Urgent Primary Care Centre as a valuable resource to the community.