We have a new website launch for Salt Spring Sea Salt that we're excited to share!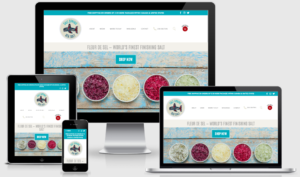 Owners Philippe Marill and Carolyn Kvajic, a husband and wife team, first introduced the gourmet finishing salt at the island's popular Saturday market. In just a few years, online sales have grown exponentially. Salt Spring Sea Salt is now available in select retail shops in Alberta, British Columbia, Ontario, Saskatchewan, the Yukon, and the United States. Salt Spring Sea Salt is getting noticed for many reasons, from the purity of the product and process, to the exceptional taste.
WordPress Website
Phillippe and Carolyn needed a website that suited the needs of their growing business. We created a custom web design with full ecommerce capabilities to draw customers in and reflect their west coast values. Sea salt is a niche market, so we wanted to create a site that conveys their natural approach to harvesting and the simplicity of island living. We started from scratch and figured out exactly what our clients needed, and worked our way out from there, creating a website with clean lines and beautiful images of Salt Spring Island.
It was the pairing of a French culinary tradition with a natural West Coast resource – along with a dash of ingenuity and entrepreneurial spirit – that created Salt Spring Sea Salt. Established in 2014, the Canadian company is based on Salt Spring Island, British Columbia and is garnering international recognition for its pure, handcrafted fleur de sel.
Phillippe and Carolyn are passionate about producing a gourmet finishing salt that rivals the very best French sea salt, and providing their customers with exceptional service. This dedication to quality has garnered a lot of attention – from a Royal visit by the Duke and Duchess of Cambridge to being featured as a Pit Stop on The Amazing Race Canada.
SEO and Analytics
We worked with Salt Spring Sea Salt to make sure that they didn't just have a beautiful website, but a search engine optimized one as well. We wanted to make sure that they had all the tools in place to boost their fleur de sel to the top of their niche in Google searches. Providing SEO services on all of our websites ensures that our clients get a increase in online visibility and can generate more business.
We are proud to work with clients like Phillippe and Carolyn to help them achieve websites that are not only beautiful to visit, but are intuitive to navigate and deliver results.