The year 2020 has shaken up different marketing trends, and with 2021 just around the corner, there are many things worth considering to stay afloat.
Social justice movements, the changing global economic landscape and of course, the pandemic, have made our world more connected than ever. These events have completely transformed the way we look at digital marketing and advertising.
With every year's end, it's always a good idea to keep a close pulse on what's on the horizon when it comes to marketing trends for 2021.
Make sure to keep these marketing trends in mind when you're building your digital marketing strategy for the New Year!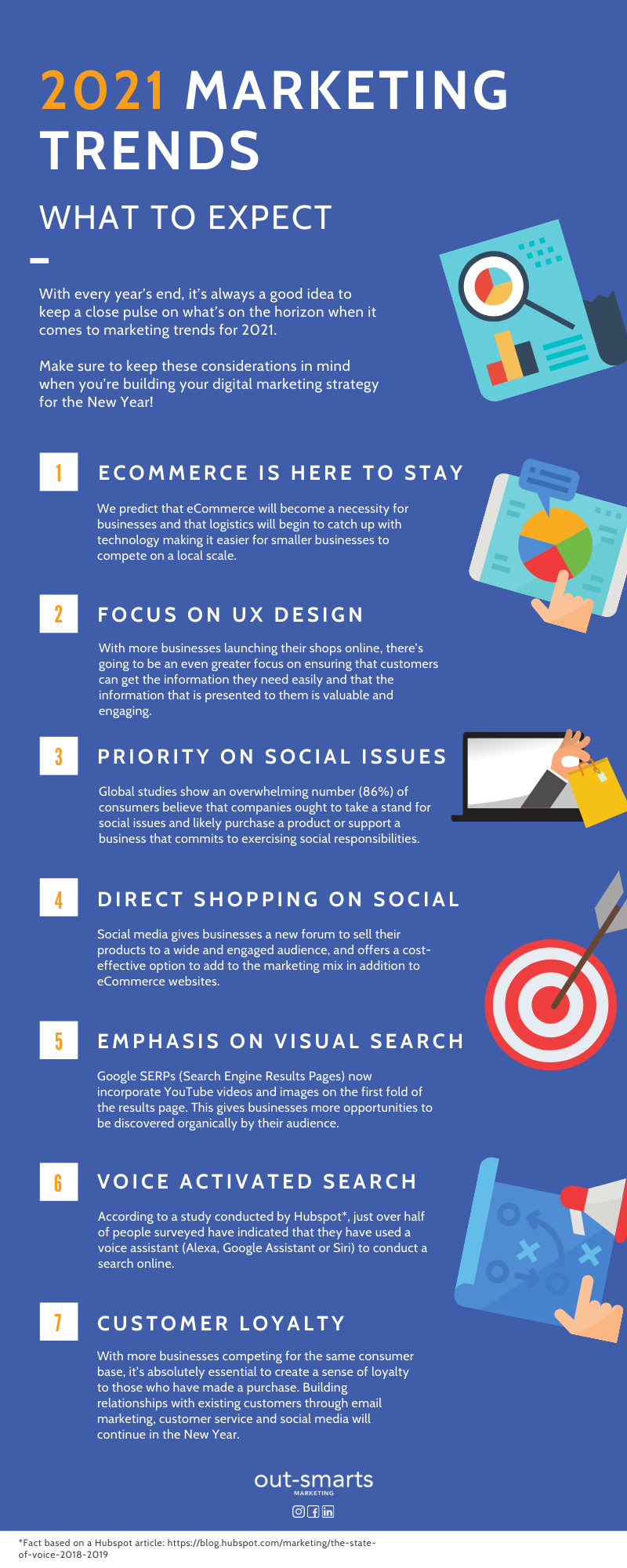 The Marketing Trends of E-commerce is Here to Stay
COVID-19, without a doubt, affected both service and product-based businesses globally. Community-wide lockdowns and public health orders led many brick-and-mortar businesses to close their physical shops and shift their operations online.
This global pandemic has created a marketing trend that led many to safeguard their businesses by relying on E-commerce and digital marketing to generate profit. Both large and small-scale businesses have now shifted their resources to attract customers online. In 2021Strategies around social media marketing, email marketing, SEO and pay-per-click advertising will be utilized, even more, especially those whose business was primarily in-person pre-pandemic.
Like it or not, eCommerce and digital marketing will be a trend that goes beyond 2021. We predict that this will become a necessity for businesses and that logistics will begin to catch up with technology making it easier for smaller businesses to compete on a local scale.
A bigger emphasis on interactive, UX Design
Simple and straightforward UX design will be a greater focus as a marketing trend for 2021. With more businesses launching their shops online, there will be an even greater focus on ensuring that customers can get the information they need easily. The information presented to them is valuable and engaging.
This means adding interactive elements that provide greater value to visitors, encouraging them to engage with your brand. Examples of this might include a chat function, an instant quote calculator or interactive videos.
Social Issues are becoming a priority
Climate change and racial inequity were some of the most discussed issues, both online and offline. With this in mind, more customers are conscious of supporting businesses that align with their social values.
Global studies show an overwhelming number (86%) of consumers believe that companies should take a stand for social issues and likely purchase a product or support a business that commits to exercising social responsibilities.
With this in mind, businesses are now increasingly conscious and focus on their philanthropic efforts. We discussed this topic in greater detail in a previous blog.
Social media will become a platform for shopping
What was once a platform to build brand awareness, is now transforming into one that generates conversions, directly from consumers.
Both Instagram and Facebook introduced in-app purchasing this year to support businesses that needed to pivot their traditional business operations away from face-to-face transactions. This gives businesses a new forum to sell their products to a wide and engaged audience and offers a cost-effective option to add to the marketing mix in addition to eCommerce websites.
Platforms like Pinterest are also giving businesses this opportunity and allowing businesses to upload their product stock in real-time.
Emphasis on Visual Search
Social media has made users more visual in the way they interact with brands. This is no different when it comes to organic search.
Google SERPs (Search Engine Results Pages) now incorporate YouTube videos and images on the first fold of the results page. This gives businesses more opportunities to be discovered organically by their audience.
With this in mind, marketers need to assess their current on-page SEO and content strategy to ensure that media files they have on their websites and YouTube have relevant keywords and search phrases that can help them appear organically on these platforms.
Voice Activated Search
While it currently does not play a massive part in Google's search algorithm, it has been predicted that customers will increasingly utilize voice-activated search.
According to Hubspot's study, just over half of people surveyed have indicated that they have used a voice assistant (Alexa, Google Assistant or Siri) to search online.
Though voice-activated search optimization is a rare focus for businesses, doing so will help boost traffic and increase consumers' visibility.
Refocusing efforts on Customer Loyalty
Competition in the digital world is higher than ever. This has been compounded by the pandemic (which forced many businesses to move online).
With more businesses competing for the same consumer base, it's essential to creating a sense of loyalty to those who have made a purchase. Building relationships with existing customers through email marketing, customer service and social media will continue in the New Year. We mention a few tactics in a previous blog post.
Many of these marketing trends are not new. However, a year filled with drastic changes and transformative shifts in the way we approach online marketing has resulted in many businesses and marketers rethinking their approach too keeping their customers engaged and informed.
We hope this marketing trend forecast will help you build a strategic and well-thought-out marketing playbook for the New Year. If you need some assistance or insights on ensuring your approach works with these changing trends, we would love to hear from you!
Feel free to contact our team to learn more. In the meantime, we extend our warmest wishes for a successful New Year.